---
A vintage card
to wish you a wonderful Holiday Season...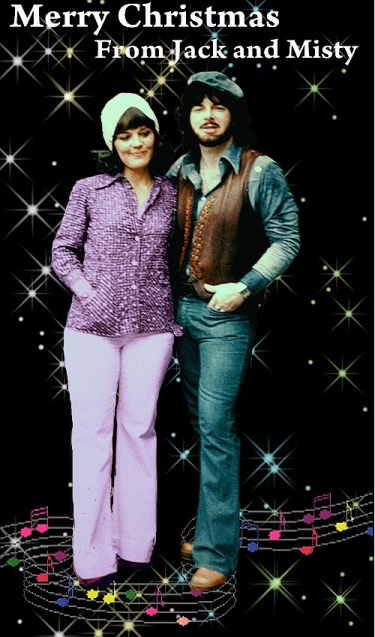 Your friends,
Jack Blanchard & Misty Morgan
---
Browse through our full JACK BLANCHARD & MISTY MORGAN CD CATALOG here: http://elvinsystems.com/jm/catalog.htm
Then... Click here for quick easy ordering:

---
Hey, gang! If you want to get Jack and Misty's new CD "TRAVELING MUSIC"
from our new friends at CD Baby, either as CD or downloadable mp3's, click here!

Ain't technology grand? Jerry.
---
It's only been 39 years. Time flies when you're havin' fun...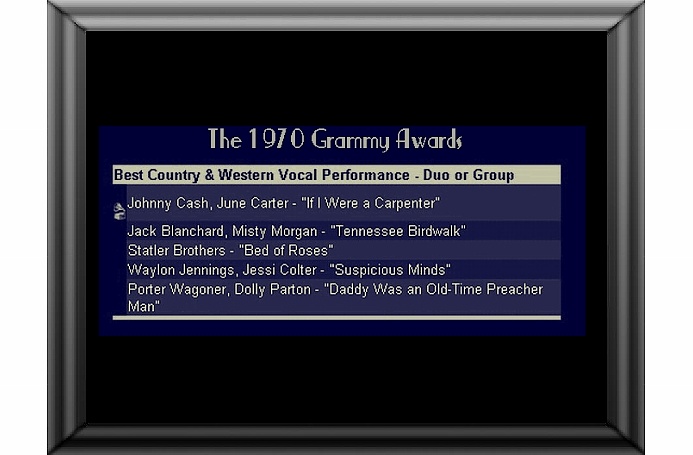 ---


December 29, 2009...
No matter who you are, nothing... but nothing... sums up the
end of the Christmas holiday season quite like a brief essay from Jack.
And here it is...





THE CHRISTMAS RAT.

I'm writing my new song, "Pat, The Christmas Rat". 

They won't let him play any reindeer games. 
He can only play rat games, 
and yet he's full of Christmas cheer. 

On Christmas Eve he slinks down a chimney with his bag of presents, 
and is beaten to death by a couple of toddlers. 

It's a sad story, 
but there's probably a moral in there somewhere.

Copyright © December 29, 2009 by Jack Blanchard. All rights reserved.
Reprinted by permission of the author.

(Okay, so Frank Capra it wasn't...) Anyway, we hope you all had a safe and happy 
holiday, and that the New Year brings you everything you wish for and then some.
See you in 2010, everybody!

For Jack, Misty, Lee, and myself,
Have a safe and happy New Year.
Peace.
Jerry



---



December 25, 2009...
As I write this, we still have about 30 minutes left of Christmas Day
(and not a snowflake in sight). However, over in Jack and Misty's
side of the country, it's already tomorrow, which brings us, conveniently
enough, to Jack's after-Christmas musings...





NOTHING IS OVER LIKE CHRISTMAS.

Nothing is over like Christmas.
Months of anticipation,
and then it's gone.
Try to hold on to it and it slides away like this morning's dream.

It's hard to work up the spirit here in Florida,
but we give it a shot every year.
Misty decorates a tree, and puts Christmas stuff all over the place.
We listen to Christmas music with the air conditioning on
and with palm trees lurking in the front yard.

I get very sentimental about Christmas,
probably because I had real Christmasy holidays years ago,
with folks who are no longer with us,
and my childlike subconscious thinks it will happen again sometime.

I toss up futile prayers for snow here in the subtropics,
but this is the time of year when we just get a cheap imitation of early autumn.
A couple of trees around here have a touch of red,
and I go look at them.

Television doesn't help,
with reports of all night sales,
talking heads urging us to be good consumers,
stranded travelers sleeping in airports,
and carolers singing "Happy Honda Days".

The people who tell us that it's a pagan holiday,
just because it's near the winter solstice,
may not realize what an intrusion that is upon our enjoyment.
I think we can each bring our own spirituality and memories to the season,
and make it our personal non-pagan celebration.
It's in the spirit of the beholder.

Christmas Eve and Day at my sister Val's house
is a fleeting taste of "old Christmas" that saves the season,
with turkey, eggnog, and all the trimmings.

I think I'll write a letter to Santa,
and ask him for one more snowy Christmas in Buffalo,
where the night is silent, the homes are warm,
and the feeling is strong in the air.

Copyright © December 25, 2009 by Jack Blanchard. All rights reserved.
Reprinted by permission of the author.

Truer words were never writ. Here's hoping your Christmas was a safe
and a happy one.

Merry Christmas to all,
Jerry.



---



December 22, 2009...
Hey, gang! Good news on the import front. Jack and Misty just got
another shipment of "Life and Death" CDs from David Thrussell over
at Omni in Australia (Thanks, David!!) and here's the best part...
we've lowered the price to $19.95! So if you want it, now's the
time to get it!

More to come
Jerry

HOLD THE BUS!! Just got word today (Dec. 23rd) that the price of the
other Omni import "Nashville Sputnik" has also been lowered to $19.95!
(See? I told you there was more to come.)



---



December 10, 2009...
Hey there, everybody. As the year winds down (only the year?),
we here at the Best Nest in the West (I'd make that 'Pacific Northwest',
but it tends to wreck the flow somewhat) are already thinking about
what to exchange things for. (Me, I'm willing to exchange some of this
below zero weather for some warmth! And still no snow...) Anyway, Jack
has some Christmas thoughts of his own (we'd be disappointed if he didn't).
And here they are...




WHAT CHRISTMAS DOES TO ME.

Some of my friends don't like Christmas music. I love it. 
I can understand how certain Christmas songs could seem corny 
when analyzed from a critical point of view, 
but they have melody, harmony, and words, 
which is more than a lot of today's popular music. 

Anyway, I love Christmas music for completely different reasons. 
This is the most emotional season of the year, 
and those songs bring back powerful memories, 
both happy and unhappy, packed with emotion. 

The ghosts of past Christmases often blur my vision in December.
My mind travels back to Christmas shopping with my parents
on snowy evenings in magical downtown Buffalo.
Gentle flurries fell from the dark sky, steam rose from sidewalk grates,
and complete strangers laughed and spoke friendly greetings to each other.
We stood and marveled at the Christmas displays in the store windows,
our breath frost highlighting our amazement.
One store had a big mechanical Santa that sort of rolled as he laughed.
Ho ho.

My family was a partying bunch... 
each holiday an excuse for all the relatives to get together and have a special time. 
Even my grandparents would dress in outrageous costumes on Halloween, 
and on July 4th's we would drive the neighbors nuts with fireworks. 
New Years Eve meant champagne and "blind robins", and on and on.
I miss those beautiful people, especially during the holidays.
Later in my life I experienced some very rough Christmases, 
some even tragic, 
and also some wonderful times with Misty and the small family we had left. 

Every experience at this time of year is magnified and extreme in my memory. 
Hearing the old songs at Christmas makes me happily sad. 
They evoke feelings I don't even understand, 
and yet it's my favorite time of the year. 
My cool guy facade cracks right down the middle, 
and my sentimental guy takes over. 

We caught the last hour of "It's a Wonderful Life" on TV the other night. 
We both sat there like idiots with lumps in our throats and tears in our eyes 
when George Bailey got his life back. 
Christmas makes me weak, I guess...
a good kind of weakness.

Copyright © December 9, 2009 by Jack Blanchard. All rights reserved.
Reprinted by permission of the author.
 


---



December 1, 2009...
Can you believe we've almost made it through another year, folks?
Neither can I sometimes. Well, here we go. Another month, another
missive from Jack. Enjoy...




EVERYTHING OLD IS NEW AGAIN.

One of the big car makers is advertising a "new" feature...
a "Start" button right there on the dashboard.
This miracle was standard on cars of the 1930's and '40's.

We see clothing styles that are imitations of earlier times.
They call it "Retro".
They remake old movies that were great as they were.
Sometimes they're better, sometimes worse.

Misty and I have recorded our own original songs,
with a few exceptions.
These outside songs were previously hits in the Pop field
and we rearranged them for Country.

"You've Got Your Troubles I've Got Mine" was a pop hit by The Fortunes.
We did a country arrangement on it, even replacing the chords to the bridge,
to make it fit our style.
We released it on Mercury Records and it became a country hit.

We also recorded Joe South's "Don't it Make You Want to Go Home",
and one really old song, "Heartaches".
This song was a big hit for The Ted Weems Orchestra in the 1940's.
The original whistling was done by Elmo Tanner.
I did the whistling on the version we did for United Artists.
Misty played the synth strings and clavinet,
and I played steel guitar.
You can hear the song here:  
BROADBAND: http://www.soundclick.com/util/getplayer.m3u?id=7577024&q=hi
DIAL-UPS: http://www.soundclick.com/util/getplayer.m3u?id=7577024&q=lo

We recorded it in Muscle Shoals, Alabama,
just to try something new... something other than Nashville...
just for a change, and maybe a fresh feeling.
We recorded back in Nashville after that,
but we're glad we had the experience.

Copyright © November 30, 2009 by Jack Blanchard. All rights reserved.
Reprinted by permission of the author.



---

  

November 20, 2009...
Hey, folks. Announcing the new and improved JACK AND MISTY
ARE CRAZY!!! Now with two bonus tracks, "The Dance Of The
Living Dead Chickens" and "A Weird Little Christmas" added.
Yes, Jack and Misty's craziest CD ever... just got crazier.
Thought you'd like to know.

More to come soon...



---



November 3, 2009...
Hi, gang. It's you know who, coming from you know where with
some more you know what... you know? So here he is...




THE BITTERSWEET SONG.

I like to write songs that cheer people up, or entertain in some way..
I also like to write songs that make us think, and are not always cheery.
I especially like bitter-sweet songs like "He Stopped Loving Her Today",
and "Yesterday When I was Young".
I seem to write a lot of those. 
I guess they express something that I need to get out of my system.

Here's a comment on the song from an email friend:
"Your song 'The Shadows Of The Leaves' is one of the most touching and beautiful, 
as well as one of the most difficult songs to listen to....that I've ever heard. 
When I hear it I think of how my widowed mom feels when I take her to the cemetary.
It makes me think about all those whom I have loved and lost 
and who now drift on the winds of my memories.
It makes me think of those whom I love and still have... and to appreciate them more.
Thanks for such a beautiful song and beautiful rendition. It makes one think."

To hear the song, click one of these links:
BROADBAND: http://www.soundclick.com/util/getplayer.m3u?id=7170401&q=hi
DIAL-UPS: http://www.soundclick.com/util/getplayer.m3u?id=7170401&q=lo

And here are the words:
SHADOWS OF THE LEAVES.

(He sings):
Life was never easy, but when troubles came along,
Together we could take 'em in our stride.
Through the good times and the tears,
through all the passing years,
night and day, you never left my side.
Now the shadows of the leaves on the grass beneath the trees
are the only things that move across the lawn,
as I stand here all alone
and read the words upon the stone,
I begin to realize you're really gone.

(She sings):
Don't think it's just your troubled mind if suddenly you find
that something brushed away the bitter tears you've cried.
If you feel something touch your face
and disappear without a trace,
And leave a warm familiar feeling by your side.
It's not the shadows of the leaves in the early autumn breeze,
As they blow along the grass that summer dried.
Through the good times and the tears,
through the autumn of your years,
Night and day, I'll never leave your side.

(Together):
Oh, the shadows of the leaves in the early autumn breeze
As they blow along the grass that summer dried;
Through the good times and the tears,
through all the passing years,
Night and day, I'll never leave your side.

Copyright © November 2, 2009 by Jack Blanchard. All rights reserved.
"Shadows Of The Leaves": Words and music by Jack Blanchard. Copyright
© Jack Blanchard Songs (BMI). All rights reserved. Reprinted by
permission.

More to come soon...



---



October 31, 2009...


HALLOWEEN WITH JACK AND MISTY





Jack seems to be a friendly Mafia guy, 
and Misty is either Dolly Parton, Snow White, or a hooker.






---



October 29, 2009...
Hi, folks. YFNW™ Jerry here. Sorry I haven't been here in
a while (the last two weeks at least), but I've been distracted
by an unexpected family matter (to be specific, my mom had to
be taken to the hospital for a heart problem). She really had
us worried for awhile, but at last report she's doing much
better and should be home soon. (YAY!) So, breathing a sigh of
relief, I can get back to the website now. (I especially want
to thank all those who were praying for her - especially Jack
and Misty.)

Speaking of Jack and Misty and the website... here's Jack:




RED CLAY ROAD.

I wrote this song so long ago that I almost forgot about it.
It's a simple story about revenge on a hot day on a back road in Georgia.

I had actually forgotten the drive to Nashville with Brad Wolfe to record it,
so I was surprised when he recently brought a copy over to the house.
It sounds newer that you would think for a seventies recording, 
and Brad does an excellent vocal performance.

Please click one of these links to hear the song:
BROADBAND: http://www.soundclick.com/util/getplayer.m3u?id=8279142&q=hi
DIAL-UPS: http://www.soundclick.com/util/getplayer.m3u?id=8279142&q=lo

Here are the lyrics:
Sun-dried ruts in a Red Clay Road can run a car right into the pines.
Here comes the rattle of a pickup truck. 
I better step into the roadside vines.
Sun beatin' down on the Red Clay Road. It's gotta be a hundred and one.
The driver whips by and looks me in the eye
like he didn't even see my thumb.

(Chorus)
Fifteen miles down a Red Clay Road till it runs into the big four-lane.
I'd give a dollar and a quarter for a cold drink of water
or a cool friendly afternoon rain.
I wonder what's become of the old-time people 
used to help a neighbor carry his load,
Instead of look him in the eye and pass him on by
walkin' down a Red Clay Road.

Ain't that the man with the pickup truck, up ahead by the scraggly pines?
The sun-dried ruts musta put him in the ditch 
that runs along the roadside vines.
He could use a helping hand to get out of the ditch.
The two of us could handle the load.
But I look him in the eye and pass him on by...
Walkin' down a Red Clay Road.

(Repeat chorus)

Copyright © Oct. 28, 2009 by Jack Blanchard. All rights
reserved. "Red Clay Road": Lyrics and music by Jack Blanchard.
Copyright © Jack Blanchard Songs (BMI). All rights reserved.
Reprinted by permission of the author.



---






MUSICIAN TALK.

I correspond a lot with certain friends, usually late at night.
Some interesting thoughts come out of these late-night emails.
Mainly with Ron Oates, Nashville producer/arranger and master of the blues piano.
I have other pen pals for later columns,
but I'm sharing a few excerpts from my emails with Ron today.

**********************************************
Ron Oates wrote:
We are actually getting ready to go out with Micki Fuhrman and her husband
for an early dinner. Wanna join us?
I replied:
Love to join you, Ron, but I better wait for my mail order teeth. :)
*********************************************************
Ron,
The #1 song on the day of my birth was "Camptown Races". :)
    Jack
**********************************************
Re: Steel guitar players.

Pete Drake played on our early sessions,
and all the older sessions I produced for other artists.
We were good friends.

Lloyd Green started with us after Pete died,
and played on all of our 1970s tracks, except two or three
on which I played my 1934 Rickenbacher Bakelite Lap Steel.

In the mid-seventies Weldon Myrick played one session with us and we loved it.
We were on Epic/Columbia at the time.

Our first sessions with Buddy Emmons were in 1992
when we did a CD album for Playback Records.
*********************************************************
Hi Ron.

Larry Butler was always a friend to us.
He often came to our sessions, and eventually brought us over to UA.

Yes, I had several artists and songs released on Pete Drake's Stop Records. 
Pete also had Window Music Publishing.
Incidentally, he produced fine albums of The Four Freshmen and Ernest Tubb duets.

We like Johnny Gimble a lot.
He did some fine work on our sessions.

Speaking of early backup vocal groups.
The Anita Kerr Singers were on our first sessions.
When I produced at Starday, we used The Hardin Trio.

Cedarwood were nice people.
Dolly and John Denny were always encouraging to us.
When we made our first single session,
Jack Stapp and Curly Putman tried their best to help us.

We have mostly happy memories of our Nashville days.
Best.
    Jack
*************************************************
Ron,
Have you noticed that in today's Rhythm & Blues there is no rhythm and no blues?
The seem to just whisper along to one chord.
    Jack
***************************************************
In the 1960's I played piano and organ with an R&B band in Miami.
Segregation was still in full force.
We had an hour long radio show from the club every night,
and we sounded like a black band.
Black people would come to the door and were not let in.
It bothered me, but I really needed the gig.
    Jack
******************************************************
I wonder what the musician talk will be about tonight.

Copyright © Oct. 25, 2009 by Jack Blanchard. All rights
reserved. Reprinted by permission of the author.



---






LONESOME SONG.

I grabbed my guitar and sat down to write a song.
The idea I had that day was more about the music than the words.
I was thinking about how important the second chord is in a song.
It often sets up the feeling for the rest of the piece.

Starting with an opening C chord, I tried every chord up and down neck,
and found that they had all been done in other songs...
all except one... the G flat seventh. 
(For Nashville studio musicians that's the b5 chord.)
Then I tried to make the chords flow naturally...
to make the complicated progression feel natural,
and wrote a simple, bluesy lyric, and titled it "Lonesome Song".

When we were recording it in Nashville... Columbia Studio B,
I overheard a girl in the backup vocal group whisper this:
"When it comes back to the 5 chord, it doesn't sound like a 5 chord anymore."
The leader of the Nashville Edition, Herschel Wigginton, said "Shhh."

We made the arrangement basic country,
to keep it traditional while sneaking in a new chord.
The band included Lloyd Green, Billy Sanford, Bobby Thompson,
Charlie McCoy, Hargus Robbins, Buddy Spicher, Bob Moore, and Larrie London.

As far as we know the record has never been a single,
and didn't appear at all until our first Australian Omni Records CD in 2005.
As a result of that album, it was used in a major TV commercial.
You may hear it as an Indie single in the near future.

Please click one of these links to listen to the song:
BROADBAND: http://www.soundclick.com/util/getplayer.m3u?id=7356000&q=hi
DIAL-UPS: http://www.soundclick.com/util/getplayer.m3u?id=7356000&q=hi

Here are the lyrics to LONESOME SONG.

I wish they wouldn't sing that lonesome song.
When the music's over, the lonesome lingers on.
Thought I got over you. Guess I was wrong.
I wish they wouldn't sing that Lonesome Song.

I wish they wouldn't play those lonesome strings
I just can't keep away the memories it brings.
Thought I'd forgotten you. It's been so long.
I wish they wouldn't sing that Lonesome Song.

I wish they wouldn't sing those lonesome words 
That's the saddest story I ever heard.
I like the music, don't get me wrong.
I just wish they wouldn't sing that Lonesome Song.
Yeah, I wish they wouldn't sing that Lonesome Song.

Copyright © Oct. 22, 2009 by Jack Blanchard. All rights
reserved. "Lonesome Song": Lyrics and music by Jack Blanchard.
Copyright © Jack Blanchard Songs (BMI). All rights reserved.
Reprinted by permission of the author.



---



More to come shortly...



---


 
October 12, 2009...
Hey there, gang. First things first... an apology to Jack
and Misty for missing their anniversary (October 7). Darn.
(And I'd actually remembered their birthdays this year. Oh
well...) Hope it was happy, guys.

Now, speaking of Jack...




FRIENDSHIP.

Misty and I are happy to have many friends...
some even on the other side of the world,
but like most people, we have an inner circle... 
friends who have become family
through sharing good times and hard times over long years.

We see each other older now,
but we look past the signs of age.
We still see our long time companions as they were then.
It's a form of love.

Inside every older person
there's a younger person wondering what the hell happened.
It's hard to figure out.
I've given up that line of study.

I talked to Mike Miller today.
Mike was our band leader in the late 1970s,
and has been like a brother to us ever since.
He's having some problems related to his combat service in Viet Nam.
I won't go into more detail because Mike likes to keep that stuff private.

He and I talked for about an hour this afternoon,
and we both laughed through most of it.
Mike is hilarious, even during rough times, and he makes me get funnier.
It's always been like that.
He can sing the most beautiful ballads in a high insane Jerry Lewis voice.
It cracks us up.

Mike plays the best left-handed lead guitar I've ever heard,
and sings up a storm.
The Mike Miller Band plays in the Jacksonville area, his long time home.

Further down this page I'm going to put a link
so you can hear Mike and his group perform a ballad I wrote.
I started this column just to have an excuse to let you hear him.

I've learned this as I've gathered a little age:
Friendship is a lot more important than you thought it was.

Please listen to Mike Miller sing our song "Don't It Look like Georgia"
by clicking a link here: 
BROADBAND: http://www.soundclick.com/util/getplayer.m3u?id=8212107&q=hi
DIAL-UPS: http://www.soundclick.com/util/getplayer.m3u?id=8212107&q=lo

Thanks, friends.
Jack Blanchard.

Copyright © October 12, 2009 by Jack Blanchard. All rights reserved.
Reprinted by permission.

Thanks, Jack. 

More to come shortly...



---



October 5, 2009...
We interrupt this website for something worth listening to
(and watching...)

MISTY MORGAN PIANO: LIVE AT PIER 65

MISTY MORGAN plays a powerful jazz piano ballad live at The Pier 65 Club,
Big Sandy Lake MN.

Keyboard bass/ vibes: Jack Blanchard, drums:Joey Nelson.



Enjoy.
Jerry.



---



October 4, 2009...
Hi again (again). Another month, another column from
Jack. (I can live with that!) Here 'tis...




MUSIC MOMENTS FROZEN IN TIME.

The piano was out of tune.
It was the 1980's, somewhere on the road.
Almost closing time, 
we had been singing our songs to the crowd all evening,
and felt like just playing something for ourselves.
The arrangement was not planned or rehearsed,
and we don't remember who captured it on a cassette recorder.
I think every band has had a similar experience.

The crowd that evening was there mostly for our country songs,
but when she started to play this piano ballad they loved it.
Never underestimate the country audience.

I was playing bass and vibes on my little Yamaha keyboard,
Misty was at the piano,
and we had a drummer playing brushes.

Misty's first love has always been the piano,
but on our recordings she's usually playing something in the background.
We don't have any studio recordings of her playing piano,
so when we found this old tape I wanted to have our friends hear it.

The recording quality is that of a thirty year old cassette tape,
but that's alright because it sounds like what it is...
a music moment frozen in time.

Give it a listen. Click a link below:
BROADBAND: http://www.soundclick.com/util/getplayer.m3u?id=8174510&q=hi
DIAL-UPS: http://www.soundclick.com/util/getplayer.m3u?id=8174510&q=lo

Copyright © October 3, 2009 by Jack Blanchard. All rights reserved.
Reprinted by permission of the author.

Well, that's all for the moment. Now I've gotta get back to my
hobby, that of marking all my junk mail as phishing scams. I love
having the internet...

See ya soon,
YFNW, Jerry.



---



September 26, 2009...
Well hello again. It's officially autumn, the fall is
just arriving, the leaves are falling, and it's time for
another column from Jack. So here 'tis:




A SONG FROM OUR LIFE.

Times were uncertain.
We had just come off three major labels and a string of big records,
and we didn't have any offers. Months went by.
Then we got an offer from an indie label we hadn't heard of.
It was a one-man operation, with a man named Ronny at the helm.
(I wish I could remember his last name.)
He was one of the good guys.

Even though his label was going under,
Ronny set up a small session for us in a little studio.
There were three musicians (guitar, bass, and drums),
and Misty with her keyboards.
We got three good cuts and one demo out of it.
When Ronny closed the company doors he handed us the masters
and his share of the publishing.
We wished each other luck, and said goodbye.

I've added one of the songs below.
The lyrics are taken right from our life. 
Listen to it here: 
BROADBAND: http://www.soundclick.com/util/getplayer.m3u?id=8145030&q=hi
DIAL-UPS: http://www.soundclick.com/util/getplayer.m3u?id=8145030&q=lo

Lyrics:
"WE'VE STILL GOT EACH OTHER"

The show is over and the crowd's going home
Looks like you and I are on the move again
I know that someday our songs
Will all be sung and forgotten
I will be your home
I will be your friend

We've still got each other, we've still got the time
You've just improved like a fine vintage wine
We've got a long way to ride to the end of the line
Still got each other, we've still got the time
So when you feel like your dreams are dyin' on the vine
Life is slippin' through your fingers and leavin' you behind
Just remember I love you and keep this in mind:
Still got each other, we've still got the time

The stage is dark and empty and we're on the road again
The echoes of the crowd still ringin' in our minds
We've left a part of us in a thousand different towns
But what we've got keeps gettin' better all the time

We've still got each other, we've still got the time
You've just improved like a fine vintage wine
We've got a long way to ride to the end of the line
Still got each other, we've still got the time
So when you feel like your dreams are dyin' on the vine
Life is slippin' through your fingers and leavin' you behind
Just remember I love you and keep this in mind:
Still got each other, we've still got the time

Copyright © September 26, 2009 by Jack Blanchard. Reprinted by
permission. "We've Still Got The Time" lyrics and music by
Jack Blanchard © Jack Blanchard Songs (BMI). Used by
permission. All rights reserved.



---



September 11, 2009...
A snapshot from another time... so we never forget...

*AMERICA, SEPTEMBER 11TH, 2001.* 

We're all zombies here today. 

We somehow find our way to the grocery store or 
post office like sleepwalkers.
We stare blankly at the television in disbelief. 

We've been getting messages of sympathy from friends 
around the world.
Thank you.
We're glad you're there, and we're glad you care. 

This is obviously a dark time for the American people.
Our thoughts are with the victims and the people who love them. 

The airports are all closed.
Folks who ordinarily rant and rave if their flight is delayed,
seem to be taking it without protest,
quietly seeking another way to get home. Too quietly. 
Like zombies. 

We worry about friends up north.
We'll try to call tomorrow.
Today is not a good time to overload the phone lines. 

In some different way, all of us are victims.
At our house things are not normal.
We are in a state of confusion, disbelief, sadness, and anger.
Maybe we're in shock.
I try to make my wife smile with the occasional light remark,
but her regular smile is not working today. 

All our projects, so important yesterday, seem trivial.
They're on the back burner for now. 

It's inspiring to see how people in New York and Washington 
risked their own lives to help each other.
I'm proud of Americans tonight,
and it's been a while since I've felt that way.
Firefighters, police, and emergency workers are heroes. 

We saw Republicans and Democrats singing a spontaneous 
God Bless America...together.
Touching.
I hope they remember the feeling.
It's the way it should be. 

Misty said she saw the young workers bagging groceries 
at the supermarket almost in tears. 

We, even as Democrats, are discussing hopefully that 
President George W. Bush might have the potential to be a Harry Truman.
Right now we need somebody to "give 'em hell".
This is not a day for political differences.
We hope he kicks the terrorists' butts. 
The maniacs that committed these atrocities represent to me 
what evil is.
I'm glad I'm not president.
I'd probably bomb all the suspects and ask questions later.
I know that's wrong, but we're mad as hell over here.
At least I am. 

We've seen the pictures on TV all day, over and over,
but the reality is still hard to grasp.
We'll watch them over and over again...
even after the television is turned off. 

Our country is strong. Our people are tough.I almost forgot that.
We'll get through this, and even be stronger.
In time things will be more like normal,
but never quite the same. 

I never thought of myself as a super patriot,
but tomorrow I think I'll go out and buy a flag. 

Jack Blanchard 

Copyright © September 11, 2001 by Jack Blanchard. All rights reserved.



---



September 8, 2009...
Hi ho, folks. YFNW™ Jerry again. And once again, it's
time for another message from Jack. Here 'tis...




A SONG ABOUT CHANGE.

American cities and towns are beginning to look alike. 
The malls all have the same stores, 
with the same cookie cutter merchandise. 
Every place you go you see identical franchised restaurants. 

Walmart moves into a town and replaces the downtown shopping area 
and the rest of the mom and pop businesses and quirky little stores.
A huge Simon mall replaced the forest near our home and displaced the animals. 
They are now looking for food in our yard. 

Shopping in old downtown Buffalo was fun, even in the freezing weather. 
It was an adventure. So much to see! 
It's gone now. 

Cities had personalities.
Now everybody in Gap tee shirts and jeans 
goes to the mall to buy more of the same, 
and dine in the Food Court.
If they're young enough, they don't even know IT'S BORING! 

I write a lot of songs about how change effects us. 
Here's one called "Changin' Times. Listen to it here: 
BROADBAND: http://www.soundclick.com/util/getplayer.m3u?id=8074235&q=hi
DIAL-UPS: http://www.soundclick.com/util/getplayer.m3u?id=8074235&q=lo

And here are the words:

"I saw the old man down on Main Street. 
The crowds were passing him by. 
He set his old suitcase down, 
And brushed a tear from his eye. 
He shook his head at a world full of strangers, 
As far as the eye could could see. 
Then he looked around at his old home town, 
And he turned and he said to me... 

"CHANGIN' TIMES, CHANGIN' TIMES... 
The wheels of life go spinning around, 
Oranges, lemons, and limes. 
They're sellin' all the good things in life 
For pennies, nickels, and dimes 
How we gonna find our way, wind our way home, 
In these CHANGIN' TIMES? 

"Aw, I can almost see the old friends... 
Hi, Shorty. Hi, Sally. Hey, Pete 
Mmm, I can almost hear their voices 
Echoin' down the street 
I better get goin' now... 
I know it's wrong now... 
Livin' in yesterday. 
'Bye, Shorty. 'bye, Sally. So long, Pete. 
I'd better be on my way... 

"CHANGIN' TIMES, CHANGIN' TIMES... 
The wheels of life go spinning around, 
Oranges, lemons, and limes. 
They're sellin' all the good things in life 
For pennies, nickels, and dimes 
How we gonna find our way, wind our way home, 
In these CHANGIN' TIMES?"

Copyright © Sept. 8, 2009 by Jack Blanchard. All rights reserved.
"CHANGIN' TIMES" music and lyrics by Jack Blanchard. Copyright
© Jack Blanchard Songs (BMI). All rights reserved. Reprinted ny
permission of the author.



---



August 28, 2009...
Howdy howdy yeah (as Yip Yip Coyote used to sing), and welcome
back to the now fully connected Best Nest in the West (patent
pending). That's right... your friendly neighborhood webmeister™
FINALLY has his own internet thing going! (Yay.)

But, you came here for Jack & Misty, so that's what you get.
Here's Jack's latest musing...





THE COCKROACH STOMP.

These are hard times.

Today I got an ad for pet insurance.
Do you know what that will lead to?
People will be murdering their pets for the money!

I was talking over old times with some other musicians
and the subject came up of how many of our old friends in music have passed away.
I suddenly realized this:
The death rate among seniors is higher than I thought!
(Because I am now considered by many to be an actual "senior"
I am allowed to make these bad jokes.)

I think the world needs a smile, so I'm sending you a song.
It's more doo-wop than country,
but it has a touching message.

Here are some of the words:

Bug, Bug, Bug, Bug, down... dooby dooby down.
Cow Cow down... dooby dooby down, etc.) 
Die, die die die die...etc.

Kill Kill Kill 
Everybody do the Cockroach Stomp. 
California, Tennessee, and Louisville,
Come on, do the Cockroach Stomp. 
1 and 2 and 3 and 4, 
Stomp your partner on the floor. 
Squish... squish... Squish, squish, squish. 
Find a bug, make a wish.
  
Kill Kill Kill 
Everybody do the Cockroach Stomp. 
You'll feel better, like I know you will. 
Come on, do the Cockroach Stomp. 
You can do it if you try. 
You can even stomp a fly. 
With a twinkle in our eye, 
We make 'em die... die... die, die, die, die. 

(Instrumental Break.)
Jack & Misty sing behind the lead guitar:
Ahhh.... Shoe Ahhh.... 
Ahhh.....Shoe Ahhh.... 
Ahhh.....Shoe Ahhh.... 
Oop shooby doop Shooby dooby dooby doop... 

Kill Kill Kill 
Everybody do the Cockroach Stomp 
California, Tennessee, and Louisville. 
Come on, do the Cockroach Stomp. 
Cream your partner with your Florsheims. 
Tromp that bugger three or four times. 
Laughing gaily, how we dance. 
They'd stomp us if they had a chance. 

You can hear the song here:
BROADBANDS: http://www.soundclick.com/util/getplayer.m3u?id=6919749&q=hi
DIAL-UPS: http://www.soundclick.com/util/getplayer.m3u?id=6919749&q=lo

I hope this made you feel better.

Copyright © August 27, 2009 by Jack Blanchard. All rights reserved.
"The Cockroach Stomp" words and music by Jack Blanchard © Jack
Blanchard Songs (BMI). All rights reserved. Reprinted by permission
of the author.

That's all for now. More to come soon.

Stay connected!
Jerry



---



August 24, 2009...
Greetings, folks, your eternally tired webmeister Jerry here with
another round of thoughts and musings from Jack, who waxes
philosophical this time (I can't tell if it's Johnson's or
Simoniz... but no matter.) Enjoy.




LIFE GETS DEEP, DON'T IT.

I have some friends who send me deep stuff.
Occasionally I get one that stops my day in its tracks.
I have to figure out whether I agree or not,
and get my thoughts down on a page and out of my head.

Here's one of those:
"Every man is where he is by the law of his being;
the thoughts which he has built into his character have brought him there,
and in the arrangement of his life there is no element of chance,
but all is the result of a law which cannot err.
This is just as true of those who feel 'out of harmony' with their surroundings
as of those who are contented with them."
    
Mark Twain also believed that we never have even one choice in our lives...
that each decision is the only possible one,
based upon external circumstances,
combined with our past experiences.
No decision can be wrong or right so there is no guilt or glory.
I believe there are other factors.

Chaos:
Accidents will probably happen.
To make God laugh, tell Him your plans.

Directions:
Some of us walk the fine line between conformity and nonconformity,
between making our own decisions and making the popular ones.
Sometimes by choosing the high road,
we find ourselves with very few fellow travelers,
and with little help available.

Time:
Time has a direction. It flows from order to disorder.
Where you happen to be along the time line is part of the mix.
If you are an inventor, the 19th century would have worked for you.

Environment:
The situation you happen to be born into, or stuck in,
helps to shape your character.

Justice:
I have a feeling that what goes around might not come back.
I've spent a lot of time waiting for bad people to get their medicine.
I'm still waiting.

Rating life:
It's comforting to think that if we are good, good things will happen,
and maybe the very act of thinking that has a positive physical influence.
I've read all the positive thinking books,
so why isn't my life in better shape?
I guess it's impossible to evaluate my life while I'm still in it.
I think it will be up to somebody else.
It might be better than I think.

Copyright © August 2, 2009 by Jack Blanchard. All rights reserved.
Reprinted by permission of the author.

More to come soon. Stay tuned.

YFNW™, Jerry.



---


August 17, 2009...
Hey there. It's time for another item from our feckless leader.
Enjoy... if you dare...




KILLING TIME

Ants are called "social insects",
but when they take over my bag of cheese puffs,
I consider that too damn social.

Scientists say that ants are smart,
but I say they are tiny idiots.
But they are really fast.
They're too small to get a good look at,
but I think they may be driving little cars.

When I first started killing them I had too much empathy.
I put myself in the ant's place.
I'm innocently driving around on this huge white sink,
and some big thing comes out of nowhere
and squishes the guy right in front of me.

I can see the story in the ant newspaper:
"LOCAL ANT MURDERED ON SINK!
Witness claims "A giant thumb came down from the sky!"
Ant police are trying to figure out what a 'thumb' is."

Now I'm more callous about killing the little wankers.
I wipe them out in large groups, laughing like Vincent Price.
I pay the rent here, buddy!

Last night I thought they were on my monitor screen,
but after many efforts to clear the screen,
I realized that they were running around on my reading glasses.

When we use bug spray in here,
they come right back with new troops,
while we're still trying to cough up Linda Blair.
I've finally learned that Lysol spray kills them and doesn't kill us.

I just went into the bathroom to brush my teeth.
and when I set my toothbrush on the sink a herd of them rushed for it.
I grabbed up the toothbrush, shouting "AHA!",
and sprayed them all with Lysol.
All except one.

The surprised survivor drove around in frantic circles,
thinking he was the next victim.
My finger was poised to spray him, but I stopped.
Before I let him go I smiled and said this to the ant:
"Tell your friends."

Copyright © August 16, 2009 by Jack Blanchard. All rights reserved.
Reprinted by permission of the author.

Enjoy your day. I'm gonna head over to the dictionary to look
up the word "feckless".

Jerry



---



August 9, 2009...
Hi, folks. Here's the latest missive from our fearless Jack. Enjoy.




THE ISLAND. 

I saw a 1934 Rickenbacher lap steel Hawaiian guitar in a music store. 
I'd never seen one before, but I bought it, and learned to play it. 
I wrote the song "The Island" so that I could play it on a recording session. 
I'm placing a link at the end of this column 
so you can hear it. 

Some background on the recording... 

Misty (Morgan) is playing all the "strings" and the island flute. 
Besides the steel guitar, I also strum one chord on an autoharp 
when we sing "built...by the hand of the Lord". 

It was a small session... 
just us with four or five musicians and three girl singers. 

We had an LP album called Environments, or something like that... 
nature sounds for background around the house. 
We took it to the session and faded the surf sound in and out of the mix. 
It might be the most fun we've ever had in a studio. 

This was one of a group of sessions we did at Muscle Shoals. 
It was a refreshing change from Nashville... 
not necessarily better, but a nice change of pace.

This song is on our new album "Traveling Music".
We invite you to hear it by clicking a link below: 
BROADBAND: http://www.soundclick.com/util/getplayer.m3u?id=7939545&q=hi
DIAL-UPS: http://www.soundclick.com/util/getplayer.m3u?id=7939545&q=lo



---

 




ALL HAT AND NO PICKUP TRUCK.

I've worn a cowboy hats and boots,
but I've never worn chaps...
except in certain private situations. 
I drank beer and cussed and sang country songs,
but I've never had a pickup truck.
I've had station wagons and sports cars,
but I didn't wear my cowboy hat while driving those.
It would be like wearing socks and sandals.
No offense.

Nobody ever thought I was a real cowboy anyway,
except one Indian in South Dakota.
He said "Got a cigarette, cowboy?"
I liked him right away.

Cowboys in the old western movies never had trucks either.
I always wanted to be in a western.
I would whistle, 
and my horse would run right over to me and say "What?"

A good name for a western movie would be this:
"Pickalong Cavity, Frontier Dentist".
I would ride into town and ask where I can locate that there frontier dentist.
Gabby Hayes would tell me "Just over yonder, stranger, 
where you see that palomino wearing dentures." 

As sheriff I would go after them bushwackers.
Somebody's got to do it
or we won't have a damn bush left in the territory.

Once I thought about getting a pickup truck
and starting a low priced taxi service for hobos.
The good thing about picking up the homeless
is that you can drop them off anywhere.

Copyright © August 7, 2009 by Jack Blanchard. All rights
reserved. Reprinted by permission of the author.



---



August 3rd, 2009...
Hey there. Crawling out from the midst of our Northwest heat wave
to deliver a Jack and Misty video for you. Enjoy!



More to come later as soon as the cold snap hits (Man, I can't wait
till it hits 89 again!)

Yer sweltering webmeister
Jerry



---



July 20, 1969...
Hi again, folks. Not much time today, so, here's Jack...




OUR ROOM.

Our CD album "Traveling Music"
takes the listener to the cities of Nashville, Miami, New Orleans, New York City,
Memphis, Detroit, Atlanta, 
the states of Indiana, Pennsylvania, Carolina, South Dakota, Virginia, Alabama,
a couple of home towns, a band on tour, and an imaginary island.
The twenty-sixth and last song brings us back home to "Our Room".
It's a simple song about a place to be alone together and be ourselves 
after the long tour.

We've put the lyrics below,
and you're invited to hear the song here:
BROADBAND: http://www.soundclick.com/util/getplayer.m3u?id=7853236&q=hi
DIAL-UP: http://www.soundclick.com/util/getplayer.m3u?id=7853236&q=lo

(Lyrics)

Our Room
Is a world of its own;
A place for me to be alone 
With you.

Our Room:
No masquerade, no costumes;
Just after-shave and perfume,
In Our Room.

And when the day
Don't go my way
And the whole world seems unkind,
I come to you,
And the things you do
Ease my troubled mind.

In Our Room
Love is warm as it was meant to be.
You bring out the best in me,
Like a flower's bloom,
When we're alone,
In Our Room.

Words and music by Jack Blanchard © Jack Blanchard Songs (BMI).
All rights reserved. Lyrics reprinted by permission of the author.

Have a happy... um... 40th anniversary of the moon launch.
See ya later.
Jerry.



---



July 9, 2009...
And now, we interrupt this website for...




A GOOD LITTLE NASHVILLE MINUTE.

Somewhere in the 1970's Nashville,
Misty and I were scheduled to be on the Columbia/Epic show
in the big auditorium downtown.
We got there early to rehearse with the orchestra
and get a feel for the stage, the lighting, and the sound.

There was another act warming up on the same stage.
It was David Allan Coe working with group of girl singers.
When Misty and I walked on stage 
the girls were smiling at me in my new black vested tux 
with the rhinestone buttons and velvet lapels.
(Did I mention I was younger then?)

David Allan Coe said this:
"I'm going to look like that next year.", and they all laughed.
Misty said, "Don't let it go to your head. It's the tux."

That tux is still around here someplace.
I can't get into it anymore,
and even if I could, there's no place to wear it in Florida
without getting arrested for overdressing. 

Copyright © July 9, 2009 by Jack Blanchard. All rights reserved.
Reprinted by kind permission of the author.

We now return you to our regular website.
Jerry.



---



July 1, 2009...



UNCLE WILL RETURNS.

Every once in a while we turn our column over to our funny pal Will Campbell.
This is your lucky day.
    Jack 

"THE LUCAS FAMILY ALMOST KILLED ME."                    

It was about 2:30 p.m. on a cool breezy day in May of 1944 that I decided to be 
aventuresome. I had heard of a school playground just down the road where kids my own 
age gathered for games and frivolity. I loved frivolity. I was the "new kid on the 
block," so I thought I'd make it known to the locals that I was available for 
conversation and "getting to know me." Prior to going to the West Central Playground, 
I stopped off at a store and bought a big brown paper bag of candy and jawbreakers. 



When I got to the neighborhood playground all of the other kids were running around like 
wild indians and having a good time. Frivolity was the main theme. I knew right then 
that I'd come to the right place. After about 15 minutes of watching the activities, a 
little kid came up to me and asked what was in my brown paper bag. I told him that I 
had some candy and jawbreakers in it. Being a kind, gentle, friendly, little soul I 
offered him a piece of my candy. He looked at me with his one good eye and said he 
wanted all of my candy. I told him that I wouldn't give him all of my candy. He 
immediately grabbed my brown bag and tore it out of my hand. My first thought was to 
smack him in the mouth...which I did. My candy went in all directions, and all of the 
other kids were picking it up from the ground. It became their candy. All frivolity 
had ceased. 



The little kid I hit was lying on the ground with most of my candy scattered all around 
him. He was bleeding profusely. Suddenly someone hit me real hard from behind with a 
board. I turned around to see who had hit me and a fist caught me in the right eye. 
Then, another kid got me in the groin with his foot. Another kid threw a garbage can 
at me. I managed to duck and it hit a kid behind me. That kid joined the others in 
making hamburger out of me. I bit someone and realized that I had actually 
bit 'myself' on the left arm.



 I screamed and called for help. No one came. I was totally on my own.  I wondered what 
John Wayne would have done. Obviously, I was up against a whole family. I couldn't see 
too well because of the blood in my eyes. I screamed for help again. No one came to my 
rescue. I managed to hit one of the kids in the fist with my nose. Then, I jumped up 
and down on the bottom of his feet with my stomach. I tried to put one of the kid's 
kneecaps out with my left eye. Then, I 'loosened up' the fist of one of them with my 
teeth. I couldn't see too well because of all of 'my blood' in my eyes. I was swinging 
at anything that moved. I think I beat a tree to death. 



I caught one of the "killers" in the head with my chin. I gave one of them an upper cut 
with my nose. About this time, I had them worried...they thought they had killed me. 
Not that they really cared. Things were definitely NOT going too well for me. I was 
wishing I was elsewhere. In about an hour, they got tired of beating on me and stopped 
from exhaustion. I felt so sorry for them. 



Later, I learned that they were the Lucas boys. They had almost killed me. I'm sure I got 
brain damage from the beating. I learned a real important lesson that day about the 
infamous Lucas family: You pick on one of them; then you've got the whole pack to 
fight. They stick together. I can say without hesitation that they were not nice 
people. Immediately I didn't like them. I just couldn't bring myself to 'cozy' up to 
the Lucas clan. I don't think they liked anybody...including themselves. After they 
finally stopped beating on me, I managed to get up off the ground and drag myself to 
my grandparent's house, and my grandparents couldn't believe my injuries. I looked 
like a Mack truck had hit me. They bandaged me up as best they could, and sent me home 
to my parents. 



When I got home my father asked what happened. I told him and he gave me a whipping for 
not doing better than I had done with the Lucas family. That's the way it went in 
those days. You got two whippings for the price of one. Then he went over to the same 
playground to talk to the Lucas clan and they beat him up, too. Afterwards, he also 
went to my grandparents house for treatment. His father (my grandfather) gave him a 
whipping for not properly defending himself against the Lucas kids. I guess it was 
justice. 



 As the months went by, I avoided the Lucas boys like they had rabies. 

Then, about a year later, when I was beginning to heal, I saw one of the Lucas clan riding 
a bicycle near my house. Without thinking, I began to chase him. He got off his 
bicycle and started to defend himself. It was my intention to beat the daylights out 
of him because he was alone. Wrong...from out of nowhere the Lucas clan appeared and 
proceeded to beat me up again. They had 'set me up.' This time I ran as fast as I 
could to the safety of my home. My father came out of the house and threatened them. 
They beat him up again. 



After that, I did the sensible thing...I NEVER WENT NEAR THE LUCAS FAMILY AGAIN. I begged 
my parents to consider moving to another state. A few days later I went to live with 
my aunt and uncle in Central Alabama. It was here that I met the Bronson family. They 
were replicas of the Lucases. I was with my aunt and uncle for a year before I came 
back to Orlando. By this time, the Lucas family was either in reform school or dead. I 
had wanted to introduce the Lucas' to their counterparts....The Bronson 
family.           


          Will Campbell.




Thanks, Will.

    Jack




---





June 25, 2009...

Hi, folks. Jerry here. Many times the question has come up, (mostly
by me...) "How on earth do Jack and Misty make that great music?"
Well, ask and you gonna get (as the school bully used to tell me).
Peruse Jack's newest column...




IT'S WHAT YOU DO WITH WHAT YOU'VE GOT.

Our favorite thing to do is get into a good studio 
and record with a bunch of great musicians and backup singers.
We also enjoy recording at home with our keyboards.
Occasionally I add my lap steel guitar or dobro.
This is time consuming 
because we have to play all the parts, one at a time... in layers, 
and then mix them down to sound like a studio recording.

We don't have a lot of expensive equipment...
just a few old keyboards that we've come to love,
a four-track eight channel cassette recorder,
a cheap stage microphone ($70 new),
and a mixer from our P.A. system.
We'd be surprised to get $1,000 for all of it,
but it's not what you've got.
It's what you do with what you've got.

One of our most popular recordings in the past few years was "Call on Me",
one we recorded at home.
You've probably heard it many times,
but if you'd like to hear it again, click one of these links:
BROADBAND: http://www.soundclick.com/util/getplayer.m3u?id=7286862&q=hi
DIAL-UPS: http://www.soundclick.com/util/getplayer.m3u?id=7286862&q=lo

And here are the lyrics so you can sing along:

CALL ON ME.
When you're standing at the crossroads of your life
And the plans you've made are fading out of sight
Well, if every road you travel seems to go nowhere
Call on me, call on me
And I'll be there.

When the darkness closes in, call on me
When the teardrops start again, call on me
And if time has taught you trouble, much more than you can bear
Call on me, call on me
And I'll be there.

When you come to the end of your dreams
And your world falls apart at all the seams
If your friends have turned to strangers, and you need someone to care
Call on me, just call on me
And I'll be there.

When the sun is growing dim, call on me
And I'll make you warm again, just call on me
Well if life left you with memories, and you need someone to share
Call on me, oh please, call on me
And I'll be there. 

June 22, 2009...

WE'D LIKE TO HAVE YOU MEET OUR LIFELONG FRIEND...
Hi everybody.

We'd like to have you meet our lifelong friend Brad Wolfe.
We met Brad in Miami, and he was one of the first artists we wrote for
and co-produced with in Nashville. 
His recordings were on Starday Records,
Pete Drake's Stop Records, and other legendary labels.
Then he came to Orlando and worked with us,
and Sammi Smith, and had a topnotch show band.

Our paths have crossed now after about fifteen years apart,
and we're doing some music again.

Brad's new CD album "Bus Ride to Nashville" will be released in July
on Artist Direct and CD Baby. 
The title song will be his first single on Stardust Records.

Please take a listen to three of the tracks from Brad's upcoming CD,
by clicking here: http://bradwolfe.net.



Thanks for welcoming Brad Wolfe back to Country Music.
Jack & Misty

(P.S. from the webmeister: In case we haven't mentioned it,
the album's on Velvet Saw VS 10070!)




---



June 18, 2009...
Hi again, folks. Jerry here, with a bit of an apology. In putting up
the link for Jack and Misty's CDBaby page, I forgot to put in the closing
" in the link. HTML. Bah. It's working fine now. Really!

Speaking of TRAVELING MUSIC, Jack has some thoughts on it. Here 'tis...




THE MAKING OF A THEME ALBUM.

Some of the most enjoyable record albums are in "theme" formats,
where the songs are similar to each other in some way.

Some examples from our CD library:
Willie Nelson's "Stardust" collection of older standards,
Dr. John's "In a Sentimental Mood",
and the tightest theme album of all... Donald Fagen's "The Nightfly",
in which all the songs are written especially for the album,
and they take you on a trip and bring you back.

Our new "Traveling Music" album is one of those.

Organizing the songs took a lot of thought and a lot of listening.
All songs should, at least loosely, stick to the subject.
Some artistic license is allowed.

Our album takes the listener to the cities of Nashville, Miami, New Orleans, New York City,
Memphis, Detroit, Atlanta, 
the states of Indiana, Pennsylvania, Carolina, South Dakota, Virginia, Alabama,
a couple of home towns, a band on tour, and an imaginary island.
The twenty-sixth song brings us back home to "Our Room",
a place to be alone and be ourselves after the long tour.

Getting the play list order right is a big part of putting together any album,
but even more so with a theme project.
It took us a while, but we got it to flow naturally.

Many of the songs have a "moving" musical feeling to fit the material,
Here's one example. Click to listen:
"47MILES TO THE GEORGIA LINE." 
BROADBAND: http://www.soundclick.com/util/getplayer.m3u?id=7723318&q=hi
DIAL-UPS: http://www.soundclick.com/util/getplayer.m3u?id=7723318&q=lo

Jack Blanchard, © June 18, 2009. All rights reserved.
Reprinted by permission. Of course.



---



June 16, 2009...
And now, a special announcement from Jack and Misty:
Announcing our newest venture: Jack and Misty on CDBABY!

We'd love to have all our friends visit for our pagewarming. :)
Just click here: cdbaby.com/cd/jackmisty

See you there!

Jack and Misty.



---



June 13, 2009...
It's me again. "Loozianna Moon" now has its own dedicated lyric page.
Until I can get it added to the lyric list, click here
if you want to see it.



---



June 12, 2009...
Hi again, folks. Jerry here. As you probably know by now, Jack and
Misty have a new CD out called TRAVELING MUSIC, and nestled in
among all the other traveling songs is a brand-new cut, "Loozianna
Moon". We'll let Jack explain it...




ANOTHER SONG ABOUT MUSICIANS.

Some time ago I wrote a song about New Orleans.
I called it "Loozianna Moon".
Hurricane Katrina hadn't happened yet,
so it wasn't meant as a topical song.

I don't have many good memories of Louisiana...
I had the flu during my only week in New Orleans,
and we hid out for several months in a town called Vinton, near theTexas border.
I won't go into why we were hiding out.

I wrote this song one night,
and the next day we had a rehearsal in our drummer's living room
and played it for the first time.
We usually recorded our trio rehearsals on cassettes,
and we found this one recently.
It's just a rehearsal tape, but now, to our surprise, 
it's been released on a couple of big labels... as is,
and distributed worldwide.

Click here to listen:
'LOOZIANNA MOON'
    BROADBAND: http://www.soundclick.com/util/getplayer.m3u?id=7270304&q=hi
    DIAL-UP: http://www.soundclick.com/util/getplayer.m3u?id=7270304&q=lo


LYRICS:
Grab your suitcase – Pack your comb.
Call all our friends – on the telephone.
Tell 'em you and me – will soon be comin' home…
Back to New Orleans.

Close the window – Kill the light.
We're gonna fly – the old red eye tonight.
Baby, you and me – soon we'll be
Back in New Orleans.

LOOZIANNA MOON – lay your light on me.
LOOZIANNA MOON – lay your light on me…
Back in New Orleans.

(Instrumental break.)

Picked some Country – in Tennessee.
Up in Motown – we laid down R&B.
Rocked those Memphis Blues – 'cause we paid our dues…
Back in New Orleans.

Well, we jammed the Jazz – We swung the Soul,
And we knocked around - the good old Rock & Roll.
Got our axes packed – Baby, let's head on back…
Back to New Orleans.

LOOZIANNA MOON – lay your light on me.
LOOZIANNA MOON – lay your light on me…
Back in New Orleans.

Fade:
Back in New Orleans.
Back in New Orleans.

Copyright © June 12, 2009 by Jack Blanchard. Reprinted by permission.
All rights reserved. "Loozianna Moon" lyrics © 2009 Jack Blanchard
Music (BMI). Reprinted by permission. All rights reserved.

That's all for this weekend. Enjoy your Flag Day, folks!

See you next week, 
Jerry



---



June 5, 2009...
Hi, folks. Yer friendly neighborhood webmeister Jerry again, in the
midst of the most massive remodeling of the site since the last time
we did this massive remodeling thing. An explanation is in order, so
here goes: (takes deep breath...)
When I attempted to update the dedicated album pages, I discovered to
my perturbment (is that even a word?) that we'd used up all of our main
account. (Drat!) So, I had to copy the albums to our secondary site.
Needless to say, this is gonna cause a lot of headaches for yours
truly, namely in having to relink the lyrics for each disk. So, here's
the thing: Check out the new Traveling Music page, admire the extra added
button and stuff; and although the other album buttons work, you may
notice a) the lyric links don't work, and b) some of the prices may be
incorrect. So, once you're done with the Traveling Music page, click
the News button (or any other button) at the bottom to get back to the
site the way it's supposed to be. Sorry for the inconvenience, but that's
the way the internet works sometimes. Technology. Bah! Once I get the 
lyric links fixed, we'll be back at 100% working order. (Speaking of lyrics,
we'll be adding the lyrics for "Loozianna Moon" - Jack and Misty's newest
song! - up there as soon as I get them.)

Thanks for your patience, and I sure hope you figured out what I just
said. [grin]

Jerry



---



June 4, 2009...


INTRODUCING...
Our brand new "TRAVELING MUSIC" CD album!


Listen to a few of the 26 songs:
(Lo-fi for Dial-up connections, Hi-fi for Broadband)
CAROLINA SUNDOWN RED
  lo-fi URL:   http://www.soundclick.com/util/getplayer.m3u?id=7223498&q=lo
  hi-fi URL:   http://www.soundclick.com/util/getplayer.m3u?id=7223498&q=hi
SOMEWHERE IN VIRGINIA IN THE RAIN
  lo-fi URL:   http://www.soundclick.com/util/getplayer.m3u?id=6885963&q=lo
  hi-fi URL:   http://www.soundclick.com/util/getplayer.m3u?id=6885963&q=hi
SEEMS LIKE THERE AIN'T NO GOIN' HOME.
  lo-fi URL:   http://www.soundclick.com/util/getplayer.m3u?id=7410422&q=lo
  hi-fi URL:   http://www.soundclick.com/util/getplayer.m3u?id=7410422&q=hi
BETHLEHEM STEEL
  lo-fi URL:   http://www.soundclick.com/util/getplayer.m3u?id=7213985&q=lo
  hi-fi URL:   http://www.soundclick.com/util/getplayer.m3u?id=7213985&q=hi
'A HANDFUL OF DIMES'
  lo-fi URL:   http://www.soundclick.com/util/getplayer.m3u?id=7584893&q=lo
  hi-fi URL:   http://www.soundclick.com/util/getplayer.m3u?id=7584893&q=hi
Tennessee Birdwalk
  lo-fi URL:   http://www.soundclick.com/util/getplayer.m3u?id=5788199&q=lo
  hi-fi URL:   http://www.soundclick.com/util/getplayer.m3u?id=5788199&q=hi
JUST ONE MORE SONG
  lo-fi URL:   http://www.soundclick.com/util/getplayer.m3u?id=1101874&q=lo
  hi-fi URL:   http://www.soundclick.com/util/getplayer.m3u?id=1101874&q=hi

Then order it here: http://tinyurl.com/p9h3ou

We hope you enjoy this album as much as we enjoyed making it for you.
Jack & Misty





---



May 30, 2009...

Whew! Your sweltering webmeister Jerry here, folks. It isn't very often I
get to make an announcement like this:

THERE'S A NEW JACK AND MISTY CD!

It's called TRAVELING MUSIC (let's have a cover shot, please...)



It features 26 Jack and Misty songs all having to deal with the subject
of (well, what else?) traveling. You'll be able to find it on CDBaby in
a week or two, but we can get it for you sooner than that for $19.95.
Newly remixed and remastered by Jack and Misty at the Music Hospital, 
it even features liner notes by our friend Moragh Carter, a cover by
Gayle Noble and a previously unreleased song, "Looziana Moon". 

Here's the track listing:
1. Somewhere In Virginia In The Rain. 2. Carolina Sundown Red.
3. Second Tuesday In December. 4. 47 Miles To The Georgia Line.
5. Tennessee Birdwalk. 6. Just One More Song Together. 7. A Handfull
Of Dimes. 8. Bethlehem Steel. 9. Blues Come In From The Rain.
10. The End Of The WIne. 11. There Ain't No Goin' Home. 12. Changin'
Times. 13. You Can't Say I Didn't Try. 14. Shadow Of A Big Black Bird.
15. The Island. 16. Cotton Blossom. 17. Miami Sidewalks. 18. Call On Me.
19. Here Today And Gone Tomorrow. 20. Is There Something On Your Mind? 
21. Looziana Moon. 22. Asleep In The Saddle. 23. I Love You. I'm Sorry.
Goodbye. 24. Still Got Each Other. 25. A Place In My Mind. 26. Our Room.

Here's Moragh's liner notes:

To many people Jack Blanchard & Misty Morgan need no introduction,
but there will also be people out there
who have never yet heard the music of this versatile and highly talented duo.
Both born in Buffalo NY and relocating to Florida during their teens,
they are excellent keyboard players
and they met while working in nearby clubs in Hollywood FL. 

They fell in love and married in the mid sixties
and around this time they began to develop their own unique harmonies.
Misty has a beautiful rich alto voice
which harmonises perfectly with Jack's deep gravelly bass.
Over the years they fought hard to retain the unique sound they had developed,
frequently having to resist the efforts of record producers
to bring them into line with the "Nashville sound". 

Against all odds they have retained that sound that is theirs.
Jack is a prolific songwriter
and has written the vast majority of the songs they recorded over the years.
They had 15 songs in the charts including a #1 hit
which earned them a Grammy Nomination in 1970.
Jack has been described as being 'an artist with words'
painting vivid pictures with his lyrics.
Misty has co-written some of their songs
and she helps with the musical arrangements,
and she always has the last say on the final mix. 

In addition they are backed by some of Nashville's finest musicians.
Their songs have been covered by many artists
including Nancy Sinatra and Lee Hazelwood, The Ventures, Henry Mancini,
The George Wright Orchestra, Rolf Harris, Sheb Wooley, Frank Ifield,
Buck Owens, Susan Raye, Billy Joe Burnette, Engelbert Humperdinck,
Connie Eaton, Tony Martin, and many others. 

This is a collection of songs on the theme of traveling,
both on the road and through life, many based on their real-life experiences.
Whether it be heading for home, saying goodbye, feeling homesick,
finding themselves broke and homeless,
finding comfort in each others' company far from home,
seeing changes over the years, ruminating on the fragility of life,
these themes are all here, with even the birds 'heading southward in the spring'. 
Jack & Misty's songs have that rare quality
that makes you want to listen to them over and over again …
and then again some more.
There is only one way to truly appreciate these songs
and Jack & Misty's magical harmonies, and that is to listen for yourself. 

Moragh Carter 04/30/09

Click HERE to go to the dedicated page now!
Enjoy your summer. Start building those igloos now!

Jerry.



---



May 22, 2009...
See anybody you know?


Today in History


Today's Birthdays: Actress Betty Garrett is 90. Pianist Alicia de Larrocha is 86.
 Bluegrass singer Mac Wiseman is 84. Actor Nigel Davenport is 81. Actress Barbara Barrie is
 78. Actress Joan Collins is 76. Actor Charles Kimbrough is 73. Rhythm-and-blues
 singer General Johnson (Chairmen of the Board) is 66. Actress Lauren Chapin is 64. 
Country singer Misty Morgan is 64. Country singer Judy Rodman
 is 58. Singer Luka Bloom is 54. Actor-comedian Drew Carey is 51. Country singer
 Shelly West is 51. Actor Linden Ashby is 49. Actress-model Karen Duffy is 48.
 Rock musician Phil Selway (Radiohead) is 42. Actress Laurel Holloman is 41. Rock
 musician Matt Flynn (Maroon 5) is 39. Singer Lorenzo is 37. Country singer Brian
 McComas is 37. Singer Maxwell is 36. Singer Jewel is 35.



HAPPY BIRTHDAY, MISTY!!!*



*Okay, so it's actually tomorrow (the 23rd), but I didn't want to forget it!



And while we're on the subject, as I say at the same time every year,

don't forget to thank a Veteran this Memorial Day. (Or any other day,

now that I think about it!) 



See you all Tuesday.

Jerry




---

 

May 8, 2009...
*Friday, May 8, the 128th day of 2009. There are 237 days left in the 
year.BIRTHDAYS
Comedian Don Rickles (83); naturalist Sir David Attenborough (83); 
singer Toni Tennille (69); country singer Jack Blanchard (67); jazz 
musician Keith Jarrett (64); singer Philip Bailey of Earth, Wind and 
Fire (58); rock musician Chris Frantz of Talking Heads (58); rockabilly 
singer Billy Burnette (56); drummer Alex Van Halen (56); actor David 
Keith (55); actor Stephen Furst (55); football player Ronnie Lott (50); 
actress Melissa Gilbert (45); rock musician Dave Rowntree of Blur (45); 
country musician Del Gray (41); singer Enrique Iglesias (34).
-- Associated Press

HAPPY BIRTHDAY, JACK!!!
From those of us at the best nest in the west.

(It's nice to be noticed).

Jerry



---



May 5, 2009...
Hi again, folks. Time for our latest missive from Jack, and this one...
well, you gotta see it to believe it. And even then, you won't.
But let Jack tell it...




PICTURES OF THE TWIN TOWERS BURNING... DRAWN IN 1973.

Today's column is different from our usual in that it is mostly about pictures.
Eerie pictures.
In the process of moving from one home to another a few weeks ago
we found a lot of junk and treasure we didn't know we still had.
Last week I noticed an old dusty shoe box with no markings to indicate what was inside.
In it I found a bunch of comic books from 1973...
Captain Marvel, The Flash, Batman, some others,
and Action Comics featuring Superman.

When I turned to the first page I couldn't believe my eyes.
The Twin Towers were wildly ablaze and Superman was on his way to save the buildings.
Of course they were Metropolis' Twin Towers,
but we all know that Metropolis is Superman's New York.
The drawings are oddly like the scenes we all saw on TV on 9/11/2001.
These were drawn in 1973!

I think this is weird,
and we've posted them so you can see for yourselves.
Just click these links: 
http://www.blazingsquirrel.com/jm/pics/y2009/comic_book_pg1.jpg

http://www.blazingsquirrel.com/jm/pics/y2009/comic_book_pg2.jpg 

http://www.blazingsquirrel.com/jm/pics/y2009/comic_book_pg3.jpg 

http://www.blazingsquirrel.com/jm/pics/y2009/authentication.jpg

Copyright © May 2, 2009, Jack Blanchard. All rights reserved.
Reprinted by permission of the author. "Superman" © DC Comics, a Time Warner
company.

(Boy, where was this guy when we needed him?)

That's all for right now. More to come later.
Jerry



---






May 1, 2009...
Yep, you read that marquee right, folks... WE'RE NINE YEARS OLD TODAY!!
(Cue the cake...) Tons of birthdays around the nest, not to mention
us. It's also Jack and Misty's birthday month as well (Cue the punch...)
and we'll shortly have an announcement of globe-shattering proportions - 
well, maybe not globe-shattering. Twitter™-shaking, maybe... (DO NOT
cue the clowns...) Watch this space for further developments.
(Second helping of cake? Don't mind if I do...)

Enjoy your day.
Jerry



---



April 20, 2009...
It's always nice to hear from fans. Check this out:

http://blogs.sfweekly.com/shookdown/2009/04/track_of_the_day_jack_blanchar.php

In other news, now released on Stardust Comp. #77, "THE HOUSE".



Listen to it here: 
BROADBAND: http://www.soundclick.com/util/getplayer.m3u?id=7532547&q=hi
DIAL-UPS: http://www.soundclick.com/util/getplayer.m3u?id=7532547&q=lo





---








April 11, 2009...


39 YEARS AGO THIS WEEK...
THE NUMBER ONE COUNTRY RECORD WAS
"TENNESSEE BIRDWALK" 
BY JACK BLANCHARD & MISTY MORGAN.

Let the good times roll!







---



April 2, 2009...
And now, Chairman Jack waxes eloquent on having another
helping...




JUST ONE MORE SONG, PLEASE

Question: "Would you care for another slice of pie?"
Me: "Well... maybe just one more."
Question: "Would you like another year?"
Me: "Yes. One more please."
Question: "Would you like another helping of life?"
Me: "You betcha."

One helping of anything good has never been enough for me.
If I had just one wish it would probably be for more of everything.

I guess I'm just having such a good time I don't want to go home.
I'll even take the hard times again.
They make the good times taste better.

When I read a good story I kinda hate to have it end.
I've gotten to know the characters,
and I've fallen in love with the heroine, 
and I'll miss being with them.
It's the same with life,
but unlike life, you can read a book over again.

Thinking about goodbyes doesn't mean I'm unhappy...
it means I'm too damn happy for my own good.
I don't want to let go of any of it.
That theme shows up in a lot of the songs I write for Misty and me to sing.

I'll show you what I mean.
You can hear the song here:
BROADBAND: http://www.soundclick.com/util/getplayer.m3u?id=1101874&q=hi
DIAL-UP: http://www.soundclick.com/util/getplayer.m3u?id=1101874&q=lo

The Lyrics:

Well we had some real fun baby
How the time has run away
Let's sing just one more song... 
Together
While the smoke drifts away
At the closing of our day
Let's sing just one more song
Together

You know I will remember
The laughter and the tears
Your smile will be in my memory
Through all the coming years

Mmmm, every good thing baby
Must come to an end
My friend, let's sing just one more song
Together

Copyright © April 2, 2009, Jack Blanchard. All rights reserved.
Reprinted by permission of the author.

More to come...



---



March 28, 2009...
And now, to while away the time while you're looking to see
if your Final Four brackets panned out, give a listen to
"The Look Of Nothing" (instrumental version)...

Broadband: http://www.soundclick.com/util/getplayer.m3u?id=7384778&q=hi

Dial-up: http://www.soundclick.com/util/getplayer.m3u?id=7384778&q=lo

More to come soon...



---


March 23, 2009...
Hello again, folks, Jerry here. Well, we got a whole lot of
news to report this time around. First, Jack and Misty are
now on Western Heart Promotions (WHP) (the same label that
released "Rusty and the Cowboys" a few years back, remember?)
and they have a new single, "Just One More Song Together".
(Which, if the attachment is working, you can hear on the front page.)

Also, you can now find Jack and Misty on AirPlay. Here's
where you can find their page there (here and there):
http://www.airplaydirect.com/music/bands/25110/index.php

We'll say this... when things happen around here, they happen FAST!

More news as it becomes available...



---



March 21, 2009...
Hi folks. As promised, we're finally back! And to celebrate
our 9th birthday month (has it been THAT long?), feast your
squinties on this...


Just click on this link:

http://www.soundclick.com/bands/default.cfm?bandID=69863&content=videos&vidID=82008

and enjoy!

Since we've been away, there's been a whole pile of Jack's columns
piling up in the Hotmail inbox. Here's one from March 3rd for
52,000 intelligent, good-looking readers...




TOO PERFECT FOR EACH OTHER.

"If you ever find yourself, you'll be disappointed."
    Jack E. Leonard

Hal E. Barry was thirty years old, 
and still didn't know what he wanted to be when he grew up.
He was tall and good looking, with blue eyes and blond curly hair,
but nobody was impressed.

He liked drinking beer and watching judge programs on TV,
but it didn't pay anything,
so he lived in his mothers attic like a hunchback bell ringer.

There was no bathroom in the attic,
so late at night he peed out the window,
killing the lilacs around the front of the house,
and confusing the neighbors' dog who was down below doing the same thing.

One morning he said to his mother "Maybe I should be born again."
She said "No thanks. It was painful enough the first time,
and you were a lot smaller."
"Our lilacs aren't doing too well this year", she added.
He said "It's that mutt next door."

Then one night Hal's life was changed by a dream.
In the dream, a wise man appeared.
Hal said "Aren't there supposed to be three of you guys?"
The wise man said "They have other idiots to visit tonight.
I got you."

The wise man smiled at his own clever sarcasm,
and then became serious as Moses on skates.
He was about to impart the Secret of Life to this jerk.
A halo-like glow formed around him, and a tympani drum rolled.
Hal said "Who's blowin' drums, man?"
In a large echo, the mysterious figure shouted
"GO FORTH AND FIND THYSELF. GO FORTH."
But it took Hal a while to pack, so he went fifth.


Hal looked for himself in Akron, and then in Fort Wayne,
but he was not there.
He looked in Waycross and Vicksburg with no luck,
but he found himself in Nashville,
and he was a her.

Her name was Holly.
She was tall and good looking, with blond curly eyes and blue hair,
and was singing in a club downtown.
The music stopped in the middle of a song,
while they stared at each other, crossing their eyes with passion.
They looked just alike.

He jumped up on the stage and sang a rousing duet with her.
He couldn't carry a tune, but everybody cheered anyway.
They were all drunk.
When the band played "The Tennessee Waltz",
they leaped from the stage,
and whirled around the dance floor in each others arms.
He cracked his funny bone on a chair, but kept smiling,
as the crowd circled around them just like in the movies.

They went up to her apartment and did what young lovers do...
They drank beer and watched Judge Judy.

Later that night they wrote a song together...
"Let's Pee on that Doggie Out the Window",
and they knew it was a smash.
It hit the Country Chart at Number One and sold millions,
but they never got paid by the record company or anybody else.

Holly blamed Hal.
She shouted "If you hadn't been too stupid to hire a notary public, we'd be rich!"
Hal yelled "Oh yeah?!"
Touching the tip of his forefinger to the tip of his thumb, making a little circle,
he said "Jump through this!"
Neither one of them knew what that meant.


In the following years they lost track of each other,
and Hal went back to his pee room in the attic.
Sometimes you can be too perfect for each other. 
Copyright © March 3rd, 2009, Jack Blanchard. All rights reserved.
Reprinted by permission of the author.



---



Have a listen to one of our instrumentals...

The Look Of Nothing

Broadband: http://www.soundclick.com/util/getplayer.m3u?id=7384778&q=hi

Dial-up: http://www.soundclick.com/util/getplayer.m3u?id=7384778&q=lo



---



Geting back to our re-opening, which coincides with not only our
official birthday month (HAS IT BEEN NINE YEARS???), but also
the re-opening of our home nest, the Mid-Columbia Library of
Pasco, Washington... I love what they've done with the old place!
(Which reminds me... What have they done with the old place?
I can't find it anywhere...) 34 brand new Dell Optiplex 760 computers,
an air hockey table (in a library?), a computer server room, and more
stuff that I have room to mention right now. (It's enough to make me
forget this toothache...) Evidently, supporting out local library is
worth it.

Anyway, on behalf of Jack, Misty, co-webmeister Lee and myself,
welcome back to the best nest in the west (or anywhere!).

Enjoy.

Your friendly neighborhood webmeister™, Jerry.

(You guessed it... more to come...)



---



March 9, 2009...
Hi folks. Your friendly neighborhood webmeister Jerry here.
Slowly but surely we're counting down to the full return of Birdwalk.
As you know if you've stuck with us this long, our local library
branch in Pasco, WA (the best nest in the west) has been closed
since Dec. 31 of last year for extensive remodeling. Well, the
wait is almost over! Yes, Saturday, March 21 is the grand reopening,
which means we can get this site going full tilt again. I'll have
more news when I can get to it, but in the meantime, if you still
need a fresh Jack and Misty fix, head on over to the other
official site at http://www.myspace.com/jackandmisty
for the latest columns, pics, music, and stuff.

More to come...



---













---