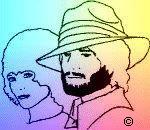 Now over 45,000 readers.

"Will Campbell On Florida Living"

Uncle Will's been thinking again. 
Here's what he has to say... 

*      *      * 

Three months ago I couldn't hang a shower curtain 
and now I can assemble a portable generator by flashlight. . . 

My yard is ankle-deep in standing water, 
and the County Commission reminds me 
to water lawns only twice a week 
on my designated watering days. . . 

My neighborhood's hot topic is a new and improved fastener 
for plywood hurricane shutters. . . 

Seasons here are: 
Summer, Still Summer, Not Summer, and Pre-Summer. . . 
with a hurricane every weekend     . . . 

Whenever I feel blue, I start breathing again. 

Last year I had my chance to do the traditional thing 
of shooting my own turkey for Thanksgiving, ... 
man ... you should have seen the people scatter in the meat department. 

I eagerly await November 30, 
and it has nothing to do with Thanksgiving or Christmas. . . 

*      *      * 

November 30th is the end of our hurricane season, folks, 
also known as The Florida Fear Festival. 

    Jack Blanchard 

Copyright © Oct. 3, 2004, Will Campbell and friend. All rights reserved. 
Reprinted by permission.














©2007 www.jackandmisty.com. all rights reserved.