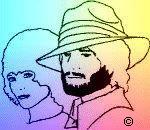 Now over 45,000 readers.

"Why We Are Never Going Back To Sebring."

I was never going to write this because I don't like to think about it,
but our friend Doug Davis
who runs some of my articles in his "Country Music Classics"
said that a lot of his readers had written in
wondering what we had against Sebring…
So, here goes. 

Audiences in 49 states have welcomed us,
We have often gotten standing ovations,
and made friends after the shows. 

We have played two engagements in the Sebring area. 

The first was in a major downtown motel restaurant and lounge.
This was several years after our string of big hits. 

A major hurricane was heading toward Central Florida at the time. 

We had a four-week booking,
and were lodged in a house a mile or so away from the job.
The motel owned the house,
and it was part of the contract.

The audiences loved us,
but the management hated us.
We never found out why.

We hadn't eaten on the trip to Sebring,
and when we were met by the manager,
I said, "Man! We're starving!"
meaning we were planning to go to the dining room
and buy ourselves dinner. 

The next night we opened
and the audience was very receptive to our music, stories, and humor.


The owner started looking at us funny,
and we noticed whispering among the help.

By the weekend the management was openly hostile.
The owner yelled at me in front of the crowd
that we should know better
than to sing our song "Cows" in a restaurant. 

Sunday night the hurricane began,
and there was a knock on the house door.
We were fired.
They were not going to honor the contract,
and we had 12 hours to move out of the house
and get all our equipment out of the lounge.

The owner told the agent who booked the job:
"You sent us starving musicians!
They said they were starving,
in front of witnesses.
They did improper material
and threatened to ruin our business!"

We couldn't believe it!
We rented a U-Haul trailer and moved during the hurricane.
While we were struggling our equipment out of the club,
a waitress asked me what our future plans were.
I said this:
"My main goal is to get out of Sebring." 

The Sebring U-Haul dealer rented us a trailer
with holes all over and spaces between the floor boards.
We had to sue them
for all the wardrobe and musical equipment that was damaged.

A few years later we got an offer
to play New Years Eve at a big RV resort in Frostproof,
in the Sebring area.

The money was very good,
so we took the contract.
Apparently, the guy who hired us
was the only one in the place who liked our kind of music. 

Men in the crowd shouted that they were going to go get their boomboxes.
They booed us,
and one old man wanted to fight me while I was on stage.
Fortunately our tall friend Wayne Kelley was there
to keep the guy off me.


Another man came up to me during a break and said this:
"Did anybody ever tell you that you shouldn't sing?
Your singing is worse than your playing." 

Somehow we got through the night
and we haven't ventured into that part of Florida since.
We don't need any more nightmares. 

It would be a great place for an asylum. 

© 2003 Jack Blanchard. All Rights Reserved. 

A PANICKY DISCLAIMER ABOUT MY SEBRING ARTICLE. 

After I sent out the infamous Sebring article,
Misty told me this:
"Now you've done it again."
She meant I got people mad at me again. 

Nice mild, friendly, moi? 

Well, she has me scared so I'm writing this disclaimer: 

I am sure there are many wonderful folks in Sebring and Frostproof.
We just didn't happen to meet them.
I have a DJ friend there,
and my uncle used to live in Sebring.
So I can say this:
Some of my best friends are from Sebring.
They have good auto races and fruit down there, too. 

(Are they buying this?
I don't want to tick off these guys!) 

We hope to meet the friendly Sebringers someday,
but they'll have to come up here. 

Sincerely and humbly,
your Sebring buddy,
always kidding...
   Jack Blanchard 

Please file this under "Humor". 

© 2003 Jack Blanchard. All Rights Reserved. 














©2007 www.jackandmisty.com. all rights reserved.