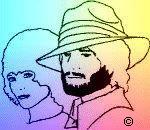 Now over 45,000 readers.

"Why Do I Like Harry The Hipster?"

A reader bought a Harry "The Hipster" Gibson CD 
because I wrote an article about him. 
He didn't like it as much as I do, 
and respectfully asked me what I like about it. 

Here's my answer... 
  

Hi. 

It's impossible to tell you why I like Harry The Hipster 
except that I do. 

He is in all the jazz history books, 
often described as Fats Waller's protégé, 
and a genius who wasted his potential on drugs. 
Orson Welles was one of his mentors 
and took him to Hollywood. 

One writer from The Jazz Institute of Chicago 
said that Harry should have been a household word in the 1950's. 
Of course it never happened. 
There is a documentary movie on his life. 

He made his hits in the early 1940's 
and apparently didn't record again until the 1980's. 

I knew Harry in the '60's and that was his peak as a musician. 
Too bad nobody ever recorded any of it. 

I have jammed with him, 
and Harry and I were talking about putting a group together. 
We discussed our doomed plans in Harry's rooms 
above a bar in Coral Gables. 

The plans were doomed because of Harry's drug problems. 
When he was "on" jazz musicians would pack the clubs to hear him. 
But he had a habit of not showing up, 
and got a bad reputation with club owners. 

Misty and I went to a popular Miami club to hear him on a Saturday night, 
and he didn't show. 
His band came and asked Misty to fill in for him for the evening, 
which she did. 

His showmanship and humor were just added attractions. 
He was a great jazz pianist. 
His style in the 60's had more of an Erroll Garner feel 
than the stride piano he played in the forties. 

I listen to the two CD's I just got, 
and hear just traces of what I heard him do live. 
I'd like a recording of harry in his prime 
but if there are any, nobody's found them. 
So I'll listen to these. 

If you're interested 
go to Google and punch in "Harry 'The Hipster' Gibson", 
and you'll see that I'm not alone in my appreciation of him. 

Thanks for writing. 

© April 30, 2003 Jack Blanchard. All rights reserved. 














©2007 www.jackandmisty.com. all rights reserved.