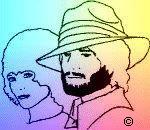 Now over 45,000 readers.

"Who Do We Sound Like?"

To those who have never paid much attention to country music,
all country singers sound alike.
To some of them we all sound like Willie Nelson.

At a show last year, a man accosted me between sets,
and told me I was a dead ringer for Willie, singingwise.
I said I didn't think so.
He said, "I think you TRY to sound like Willie Nelson".
I beeped his nose with one hand,
and bonked him on the head with the other,
in my mind.

There aren't as many duets as solo singers,
so some people think we all sound alike.
Misty and I are accused of being "exactly" like:
Lee Hazelwood and Nancy Sinatra,
Sonny and Cher,
Johnny Cash and June Carter,
The Captain and Tenille,
Les Paul and Mary Ford,
Louis Prima and Keely Smith,
and others.
What's next? Homer and Marge Simpson?

Fans tell us they LOVE our records:
"Bony Fingers"
"Jackson",
and others that weren't ours.

I'm guilty, too.
I always had trouble telling Jerry Lee Lewis from Mickey Gilley.
I like The Beachboys, but Sam and Dave sound just like them,
at least to me.

The human brain needs to file things in categories
to keep from going nuts from data overload.

I file a lot of male country singers into two categories:
The Lefty Frizzells and George Joneses.
The good ones have taken these sounds
and expanded on them,
adding themselves to the mix.
Some don't even know where the sound started,
but it doesn't matter.
It's something good to build a style on.

Two of my vocal influences were Lee Hazelwood and Roger Miller.
I like it when listeners pick up on that.

I think all of us songwriters, singers, and musicians,
are combinations of others that came before.
The trick is to shape it into something of our own.

Years ago Misty and I decided to listen more to our own recordings,
and less to others'.
This led to imitating ourselves,
and exaggerating the things we have that are different.
It's like doing impressions of yourself.
I recommend this method to young artists
as a help to developing a style.

One thing I'm sure of:
All rappers sound alike, and they're all doing the same song.
You'd think I'd understand a word or two here and there.

Copyright © February 5, 2002 by Jack Blanchard. All rights reserved.














©2007 www.jackandmisty.com. all rights reserved.