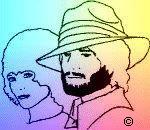 Now over 45,000 readers.

"What Makes Me Happy"

Misty's humanness, openness, kindness, talent, and sense of humor.
Entertaining audiences with our own music and words.
Having a new story or an article or a song finished.
Recording sessions.
Traveling.
Going back home.
A few friends.
Errol Garner playing the piano.
Waking up.
Dogs and cats.
Getting good mail.
New shoes.
Playing a keyboard or slide guitar.
Listening to our own records. (Blush)
Answered prayers.
Roger Miller, Harry Nilsson, Spike Jones, Leon Russell, Mozart, and Don Gibson.
Elmore Leonard, Stan Freberg, Stephen Wright, Jack Benny, Redd Foxx, Mark Twain,
and most humorists.
Movies that make me laugh or cry, and even action stuff with car chases.
The Internet, when it works.
Laurel and Hardy, Benny Hill, The Simpsons, and Seinfeld.
Cliff Edwards singing "When You Wish Upon A Star".
Jazz and cars from the 20s through the 60s.
Honest country music.
Gene Autry.
Scenery.
Autumn.
Christmas.
The list is getting longer, and I've got more for another day. 
I think it's good to put these things down.

I recommend it.

Copyright © April 7, 2001 by Jack Blanchard. All Rights Reserved.














©2007 www.jackandmisty.com. all rights reserved.