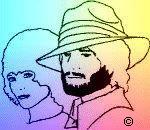 Now over 45,000 readers.

"Waiting For Something Good (2006)"

There have been times in my life when I'm busy doing work I like... 
making a little progress. 
There are other times when events are beyond my control, 
I've done all I can do, 
and I'm just waiting for something good to happen. 
Maybe you know the feeling. 

During these "on hold" times 
I sift through the past, 
and remember the place where my life was formed. 
If it weren't for my home town, 
I wouldn't be me. 

I think we all want to go home sometimes. 
Mine exists only in my head, 
forever unchanged, 

I thought I'd better take a pill, or start writing, 
so that's how we got here today. 
Writing won. 

The hometown I remember is long gone. 
Maybe I could learn to love the new version. 
Maybe we could even add a little something to it.
I'd like to give it a try. 
The sequel may be as good as the original... 
just different. 

I still see the streets of Buffalo roofed with arching elm trees, 
and the old neighborhoods as they were. 
If I were there right now, 
I wouldn't have anybody to visit. 
The old friends and relatives have gone, 
one way or another. 

I'd probably have trouble finding my way around. 
The scenery keeps shifting. 
It's our most reliable law. 

Back when the globe was cooler, 
we bought a VA home in the Carol City section of Miami. 
We never got it fully furnished, 
before we moved to Key West to start a new musical experiment. 

After a couple of hit records, we got a Miami booking, 
and drove out to have a look at our former house. 
The new people in the neighborhood 
threw rocks at our motor home. 
So much for nostalgia. 

Change can have an up side, if we look for it. 
We lost the house, 
but gained a career. 

I can't find the up side to the people we've lost lately. 

The Internet is reviving our music. 
That's good change. 

We could use a new direction right now. 
Misty and I have always tended toward restlessness. 
We prefer excitement to serenity. 
There's not much excitement here in Central Florida. 

They are cheesing over the old Sunshine State with "progress". 
Florida is starting to look like a 7-11 blew up. 

We want to go where there are autumn leaves, 
snow, 
and roots.

We'd like to meet new and old friends... 
Learn new things... 
Have an adventure. 

So, that's our wish list. 

The nice thing about change is this: 
If we keep trying, 
something good just might happen. 

Copyright © Feb. 17, 2006, Jack Blanchard. All rights reserved. Reprinted by permission.














©2007 www.jackandmisty.com. all rights reserved.