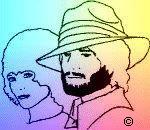 Now over 45,000 readers.

"Time Capsule From The Road"

    Misty found this in a box of old stuff, a scrap of yellowed paper with long 
forgotten writing from years ago. A time capsule from the seventies:
    We're doing 55 miles an hour on I-95 as I write this. Trucks pass us and make 
the motorhome sway. Our traveling companion Pat Patrick is driving while Misty and 
Wolf doze in the copilot seat. Wolf doesn't know that dogs don't sleep on their backs. 
He doesn't even know he's a dog. I'm at the kitchen table.
    We just passed the Ridgeland exit. That's all I know about that town. I wonder 
how many friends I'd made, what adventures we might have had if the interstate hadn't 
whisked us right by Ridgeland.
    Maybe I'd have found out what a praline is. I've seen a lot of Pralines signs. 
I think they're small and furry, like gerbils.
    Remind me to stop and rent one on the way back. If I like it I may buy a couple 
and breed 'em. A couple hundred head of praline would make a nice ranch.
    The interstate ended and we got to go through Walterboro. Not much happened. I 
guess it's all happening back in Ridgeland.
    Somewhere at the other end of this rain we're expecting a town named Westport, 
New York, where for two day we'll be enjoying social (at least) intercourse. Two days 
at the Essex County Fair.
    I tried to find Westport on a map, but I think the map is kind of old. It's a map 
of Gaul.
    I doubt if we'll find a healthy herd of pralines that far north. I hate bony 
pralines.
    Six days before we're due in Wichita, so I think we'll hang around Vermont for a 
day or so. I'm curious as to whether it's possible to take a New England covered bridge 
at seventy miles an hour in an eleven and a half foot Winnebago.
    It would probably be nicer up there in the fall or winter. As it is, I'll be the 
only sap running around Vermont.

Copyright © January 24, 2001 by Jack Blanchard. All rights reserved.














©2007 www.jackandmisty.com. all rights reserved.