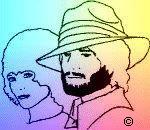 Now over 45,000 readers.

"Those Kids Who Were Us"
 
In 1967 we started our singing career in Key West, 
at the Gold Coast Lounge. 
That's when things finally started to go right. 
 
We'd only been there a couple of weeks, 
performing our new songs in our new style, 
when we were discovered and signed to our first recording contract, 
and we went to record in Nashville. 
 
Five or six years later, and after a few big records, 
we returned to Key West for a visit. 
We should have known that it would turn into one big reunion party, 
because that's how Key West is. 
 
We had a lot of friends in the Florida Keys, 
One was a young Key West Police detective named Duke Yanacone. 
Our pal Duke had left the police department, 
and was a deejay on WKWF radio. 
The clean shaven cop in the sharp blue suit, 
now sported sort of a bearded hippie look. 
Like me. 
 
After about a week of partying, 
we said goodbye to all the gang, 
and took off for parts unknown... for about thirty years. 
We lost touch with Key West and most of its people. 
Until now. 
 
After all this time, Duke found us on the web, 
and we've been talking on the phone and exchanging emails. 
We've learned that Duke went back to being a homicide detective, 
and retired as a sergeant in the 1990's. 
 
He sent us some pictures from our big homecoming week so long ago. 
I can't stop staring at them... 
at those kids who were us... 
who were drinking champagne and having fun. 
 
To quote myself... 
"Time flies when you're having life." 
 
Click this link to see our 30 year old party pictures... 
http://tinyurl.com/gyx3t 
 
Copyright © June 27, 2006 Jack Blanchard. All rights reserved. Reprinted by permission.














©2007 www.jackandmisty.com. all rights reserved.