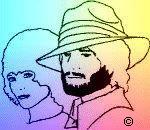 Now over 45,000 readers.

"The Weird Gig"

I was part of a teenage musical trio.
Ronny Loft played upright bass.
His brother Jerry played rhythm guitar.
They both sang better than me,
but I played better than them.
We were all acoustic.
I played piano.
We could play in a blackout.

The Loft brothers were Mohawk Indians.
Their extended family mostly lived on what was then called
The Six Nations Reserve, in Canada.
I spent some time with them on the reservation.

We leaned toward Western campfire music.
boogie, and Hank Snow/ Lefty Frizell/Ernest Tubb stuff.
We often played for free.
We were learning, and loved to play.
When the brothers sang together
it reminded me of the Mills brothers.

Being the dark ages,
our only sources of music were AM radio and records.
I'm glad we didn't have karaoke tapes and echo effects,
because we responded to each other.
We interacted.
That's missing when you use artificial music.
The tape doesn't change.
It's the same every time, and it's somebody else's music.
Our music was rudimentary, but pretty good,
and it was our own.

One year I went to stay on the reservation with them
for the Fourth of July horse races, a big event up there.
I never asked why Canadian Indians would celebrate
our Independence Day.
Jerry and Ronny's relatives were the most important people up there.
They ran the General Store, the Post Office, and the funeral parlor,
all in one big rambling house.

We all had trouble sleeping because we were excited.
We were young and on an adventure, especially me.
In the middle of the night,
Jerry and Ronny tiptoed into my room and said to come with them.
They wanted to show me something.
We sneaked down the creaky stairs,
not wanting to wake up the whole house.

With a flashlight,
they led me to the strangest musical instrument I'd ever seen:
an old pump organ.
They showed me how you pump the air with foot pedals
and played the keyboard with your hands.
I caught on quickly.

I started playing a boogie, very softly.
I looked up and the guys were gone!
In a few minutes they returned with their instruments
and we started jamming.
I looked up a few minutes later
and there were enough Indians in the room
to make a John Wayne movie.
They were all smiling, clapping, and tapping their feet to the beat.

We played for over an hour.
The lights had not been turned on,
just a couple of candles somebody had lit.
We ended to a big round of applause,
and somebody hit a light switch.
I blinked at the brightness,
and when my vision cleared I looked around.
This is what I saw:
We had been jamming in the Indian funeral home,
and there were two dead bodies in there!
I'd been playing boogie on the funeral organ!

That's one of the weirdest gigs I've ever played.

It was fun.

Copyright © April 13, 2001 by Jack Blanchard. All Rights Reserved.














©2007 www.jackandmisty.com. all rights reserved.