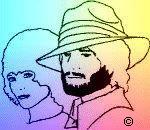 Now over 45,000 readers.

"The Ups And Downs"

We've had a lot of adventures
so far during our music career.
Most of them good.

We had three hits on Mercury Records in 1970...
"Tennessee Birdwalk", "You've Got Your Troubles, I've
Got Mine",
and "Humphrey theCamel".
Even so, they didn't want us to continue producing our own records.
They insisted in putting a house producer in charge,
so we were forced to quit.
They would have changed our sound.

For the next two years we had no records released,
due to contractual problems, resulting from our quitting.

We had offers from labels,
but couldn't legally accept them.

After the two year gap,
we signed with Mega Records,
a label that had just had a hit
with "Help Me Make It Through the Night", by Sammi Smith.

After a bunch of singles and an album on Mega,
we moved to CBS/Epic/Columbia, and then United Artists.

We never got back our original momentum,
but over the years,
we have managed to make many records we're proud of,
and to put together a legacy.
To us, that's what it's all about.

One of our first Mega releases hit hard
and has become somewhat of a standard.
It's a song I wrote about a couple who broke up
and are reuniting over long distance telephone lines:

To hear the song, click here:

http://www.kokosuniverse.com/jm/wma/intherain_nif.htm

"SOMEWHERE IN VIRGINIA IN THE RAIN"

I'm calling from Somewhere in Virginia in the Rain
I never thought I'd hear your voice again
I heard the windshield wipers calling out your name
Somewhere in Virginia in the rain

I realize that I'm the one to blame (Aw, come on)
And I won't make the same mistakes again
My left front window's busted,
got it patched with cellophane
Somewhere in Virginia in the Rain

I know it must be 2 AM by Blue Ridge Mountain Time
I'm here inside a phone booth
underneath a lonesome pine
And I've only got three minutes
'cause I'm down to my last dime
I hope it's not too late to say I'm sorry

Somewhere in Virginia in the Rain
Little country towns all look the same
If I woke you up,
it's just to let you know somebody loves you
Somewhere in Virginia in the Rain
Somewhere in Virginia in the Rain

Copyright © Nov. 8, 2004, Jack Blanchard. All rights reserved. Reprinted by permission. 
"Somewhere In Virginia In The Rain" Words and music by Jack Blanchard 
© Jack Blanchard Songs (BMI). All rights reserved. Reprinted by permission.














©2007 www.jackandmisty.com. all rights reserved.