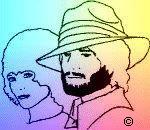 Now over 45,000 readers.

"The Show Must Go On"

"The show must go on" is not a commandment from God. 
It's often used to manipulate entertainers for profit.

It's like saying, "The airplane must take off", 
or "The funeral must go on" even if the deceased wakes up.

Somebody has to ask the question, "Are you sure the show must go on?". 
It might as well be me.

A while back Misty and I were hired to headline a show in a southwest Florida city. 
We got half the money in advance.

The promoters who hired us apparently spent 
too much money renting the football stadium, 
and tried to make up for it by spending nothing on advertising. 
The only ads were a few cheesy fliers inserted in grocery bags at a local market.

Blissfully ignorant, we packed up and hauled our bus and crew 
all the way down there on a hot summer day. 
We were supposed to get the rest of our pay before the show.

We couldn't help noticing that only about a hundred people 
were sitting in the infield. 
Nobody up in the 25,000 seat stadium, 
a clue that we might get stiffed.

I sent for the elderly man named Rusty or Dusty who had been our contact, 
and asked him nicely for our pay.

He said the money man had stepped out and we'd get paid right after the show. 
For sure.

I said I was sorry, but no.

He said please.

I tried to stick to my meager guns, knowing that after the show 
our bargaining power drops to below zero.

He actually dropped to his knees and begged, in front of everybody. 
This old man actually cried tears! 
He said the small group of fans out there would be crushed. 
He had a heart condition and would probably die if we cancelled. 
The show must go on.

I started to crack. He blessed me. 
He always knew I was a good person. 
My wife knew I was an idiot.

The show did go on, and we did not get paid. 
The money man was still among the missing. 
Rusty or Dusty assured me that he would personally 
bring the cash to us in Orlando the next day. 
He said not to worry. 
I worried anyway.

The next day was not good. 
The more I stared at the front door, the more the doorbell didn't ring... 
but, finally the phone did. 
It was Rusty or Dusty.

He said the money man had decided not to pay us. 
Rusty/Dusty was taking this well. 
I was beginning to wonder if he really was on our side.

I wished he had come to the house to tell me 
so I could twist his neck into a balloon animal.

Copyright © January 16, 2001 by Jack Blanchard. All rights reserved.














©2007 www.jackandmisty.com. all rights reserved.