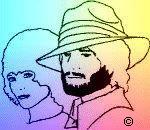 Now over 45,000 readers.

"The Secret Life Of An Indie Single"

Some people will disagree with this. 
I'm used to it. 
There are many opinions 
on how long to wait before releasing the next single. 

I believe that singles USED to have a 3 or 4 month run in the old days, 
and maybe they still do on the majors. 

With indies, 
there are a gazillion records out there vying for the DJ's attention. 
There is actually too much product being shipped. 
This is because anybody with a few bucks 
can get on a compilation somewhere. 

I think a single in the indie market is good for 6 to 8 weeks tops. 
Stardust, the label Misty and I are on, 
puts out a comp every second month. 
Smart, I think. 

On the majors we used to get AT LEAST 3 to 4 months out of a single, 
but our song "It Seems Like There Ain't No Goin' Home" 
hit #1 in the Indie field, 
and is sliding after only 6 weeks. 
There is a huge pile of new stuff on the DJ's desk waiting to be heard, 
and a limited amount of air time. 
Musical attention spans are shorter 
because of the sheer volume of material being mailed out. 

I think if we wait 3 months, 
thinking we might step on our previous release, 
we will find ourselves off the charts. 
We'll be out of the running for several weeks, 
and lose our momentum. 

Of course, there will be exceptions. 
I hate exceptions. 
They make me look bad. 

Copyright © May 17, 2002 by Jack Blanchard. All rights reserved.














©2007 www.jackandmisty.com. all rights reserved.