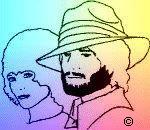 Now over 45,000 readers.

"The Rabbits That Ate Toronto"

An actual news item: 
"TORONTO, May 8 (UPI) -- Toronto area homeowners are complaining to animal control 
about a rabbit population explosion. 
Colleen Gyergyai of the Oakville Humane Society says she receives at least 30 calls every day 
from irate homeowners plagued by garbage- and garden-ravaging rabbits, 
the Toronto Star reported Tuesday. 
She said a normal year would see about three complaints a day. 
"It's everywhere from Oakville to Milton," Gyergyai said." 

My fake news item: 
 A Toronto man was attacked and robbed on Bloor Street last night by outlaw rabbits. 
The victim could tell they were gang rabbits by the tattoos on their ears, 
and the hip-hop music on their boom boxes. 

In a related story, 
police received reports of other rabbits stalking the downtown area. 
One caller claimed to see a group of rabbits walking backwards, 
and described it as 'a receding hare line'." 

Officials suggest that citizens follow these safety tips: 
1. Do not carry lettuce in your pockets or purse. 
2. Do not go walking at night while wearing a carrot suit. 
3. Do not pick up any pellet-shaped objects. 

Copyright © May 9, 2007 Jack Blanchard. All rights reserved.
Reprinted by permission.














©2007 www.jackandmisty.com. all rights reserved.