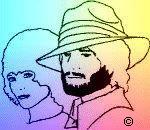 Now over 45,000 readers.

"The Music Tests"

Does your music pass the tests
for Traditional, Classic, or Real Country?
Why does music have to pass tests?
Who is qualified to give a thumbs up or down?
Who is competing?

The artists themselves aren't all that competitive.
It's mostly the fans, critics,  and others.
The emails I get show that the controversy goes on...
and on and on....ad nauseum.
That's a latin phrase meaning "Barf".

*     *     *
Just a little background...

I've been in Country Music for almost 40 years
as a songwriter, singer, and producer,
and have received Country awards
from CMA, Grammy, BMI, and ASCAP, and others.

Millions of our Country country records (with Misty Morgan)
have been sold by major labels.
We have appeared on all the Country TV shows
and have been in the top half of the Billboard charts
for over a hundred weeks,
including a Number One..

We have worked with
and have been friendly with
Waylon Jennings, Don Gibson, Tom T. Hall,
George Jones, Conway Twitty, Tammy Wynette,
Charlie Pride, Boots Randolph,
and just about every other country legend.

All this is nice,
but it doesn't make me an expert
on what's Country and what isn't.
There are no experts on that...
just a lot of people with opinions.

I get mail from semi-amateur artists
who say "Nothing else is country but what I sing."
Fans who play a little guitar
are boosters for simple three chord country.
That's what they can play.
Good. It makes them happy.
That's what music is about.

Some of our music is very down home,
and some is more out there.
We vary, according to our inspiration at the time.
No professional has ever said that our music didn't fit.

Willie Nelson's Stardust album sold big
but I don't think many Steely Dan fans bought it.
It was country people hearing a great artist stretch out.
Willie wasn't deserting. He came back in.
Besides, this isn't war or politics....
it's music, an art form.

For the record,
I don't care for most of the so-called New Country.
I enjoy the old goodies,
and also the more innovative stuff
like Mickey Newberry.

The argument will go on forever.
Misty and I will just keep on doing what we do best,
like most everybody else.

Our job is to make the music,
not to debate it.

Copyright © Jan. 12, 2005, Jack Blanchard. All rights reserved. Reprinted by permission.














©2007 www.jackandmisty.com. all rights reserved.