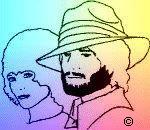 Now over 45,000 readers.

"The Karaoke King"
(Jack Blanchard, referee)

I didn't write this. I'm just the referee. Don Lummus (The Texas Tradition Band) 
wrote the following song, poking fun at karaoke:

THE KARAOKE KING

"You'll find him almost every night
In any club or bar
That features Karaoke
Thinkin' he's a star!
And it doesn't really count a lot
The fact that he can't sing
He's gonna give it all he's got
He's the Karaoke King.

He always gets there early
To make sure he gets on
He brings his own cassette tapes
And his custom microphone
He has all the tone deaf girls
Thinkin' he's a dream
He really rocks in the tone deaf world
He's the Karaoke King.

(Bridge)
But the part that's really frightening
Is the fact he's not alone
They're out there by the thousands
Screwin' up good songs
So if your life just really sucks
And you're looking for some zing,
Then you might as well go try your luck
As a Karaoke King... or Queen."

(Words and music © Copyrighted 1999 Don Lummus, Happy Seven Productions) 

The song was posted on Dick Shuey's Twangtown Board and caused a riot, 
several injuries, and an international incident. 
Then, out of the woodwork comes a REAL karaoke king, 
who wrote the following response to Don:

Answer from a real Karaoke King:

"I Need This Song!!!

I have been a KJ for ten years. I've had PLENTY of the good, the bad, 
and the ugly. This song would be a smash at my shows. Naturally, 
I wouldn't play it after little miss priss (who responded earlier), 
or someone who takes it too seriously. 
But this song would be a perfect fit for my show. 
I always keep it light and as much fun as possible, 
and try to keep peoples feet on the ground.

I'd sing this song!!! I'd BE the "Karaoke King"!
What a great bar song! Maybe I'll try to put the lyrics to another tune... 
(can I use your song??? Please?)
(signed)
Lee"

A happy ending.

There are millions of stories in the Naked City. Why did I pick this one?

Copyright © April 12, 2001 by Jack Blanchard. All Rights Reserved.














©2007 www.jackandmisty.com. all rights reserved.