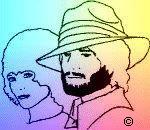 Now over 45,000 readers.

"The Ghost Of Nitwits Past"

I come from a funny family. 
Each of us was usually trying to make the rest laugh... 
A bunch of smart alecs, 
but it was fun. 

We had a front sun porch on our house 
with windows on three sides. 
We'd gather out there in the warmer weather 
and God help anybody who happened to walk by. 
Our victims never heard our wisecracks, 
but we were in there stifling our laughter. 

Dad was the funniest one. 
He could imitate people we knew, 
recite nutty poems in foreign accents, 
and make comic faces, 
but he was best at ad lib puns. 

I'm not going to do any of the family material here. 
My point, if I ever get to it, it this: 
I write and say things that make ME laugh! 
I don't know where they come from. 
I think it may be a family curse 
or some kind of a squirrelly spirit 
possessing my brain. 

Maybe one of my ancestors was elected Village Idiot, 
and hangs around our family, 
making us act silly. 

I just saw a picture taken at a recording session in Muscle Shoals. 
In the picture I had just said something funny, 
and you can actually see the nutcase spirit 
flowing in and out of my head! 

I swear this photo is unretouched. 
Click this link to see: 
http://home.bellsouth.net/coDataImages/p/Groups/60/60879/pages/471018/joke.jpg 

Copyright © March 5, 2004 Jack Blanchard. All rights reserved. 















©2007 www.jackandmisty.com. all rights reserved.