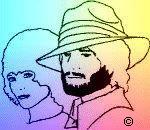 Now over 45,000 readers.

Other Voices: "The Birdwalk Story"
by Bob Skurzewski
 
From Skurzewski's 
Buffalo Off the Air Newsletter. 
Here We Go Again #26 
Fri, 9 May 2003 

JACK BLANCHARD & MISTY MORGAN 

Jack first got the idea for Tennessee Birdwalk 
from an old standard love ballad titled 
"Don't Take Your Love From Me." 
The first line is 
"Would you take the wings from birds so that they can't fly?" 

Jack is always looking for the cute twists to song and song ideas. 
He made a wise crack to Misty, 
"Would you take the wings from birds so they have to walk?" 
It was then that one line lead to another. 
Jack wrote the song in about 20 minutes. 

The duo recorded the song in Nashville 
at 12:55 AM on a Saturday morning (Friday night). 
Jack notes that the musicians were tired 
as it was their last session of a long work week. 

At ten to 1 in the morning, 
the band started packing up their instruments 
when Misty cried out, "Hey hold on! We have another song to do." 
The musicians grumbled at first, 
but as they got into the practice of the tune, 
they liked it. 

It was recorded in one take, with no overdubs. 
3 minutes to run through it, and 3 minutes to record it. 
Jack would later beg the record label not to release it. 
He was worried of being tagged as a novelty act. 
Jack now admits (with a grin) 
that was the only time he was ever wrong! 

The single became a smash hit, 
crossing over in many areas on the country. 
For a while the single seemed to be played everywhere. 
And after years in the musical trenches of trying to get a hit record, 
Jack Blanchard and Misty Morgan became overnight sensations! 

The above comes from Jack as a conversation with DJ Dave Morris. 
Jack, in an e-mail to me 
indicated that he and Misty played every conceivable spot in America, 
but Buffalo, New York! 

Where is Rambling Lou when you need him? 
And Jack and Misty still tour, 
so you might want to consider them for an engagement. 


Thanks, Bob and Dave. 
Your friends, 
    Jack & Misty 















©2007 www.jackandmisty.com. all rights reserved.