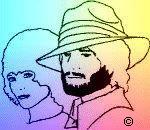 Now over 45,000 readers.

"Taking Care Of Everybody Else"

Many of the HUD homes we see celebrated on the media 
are given to immigrants, 
while our elder Americans stay in sub-standard housing. 

In Florida now, in order to receive any aid at all, 
a family must be 12% BELOW the Poverty Level! 
10% or 11% below poverty level, and it's tough luck. 

We have homeless people here who only recently had homes and jobs. 
They were caught unexpectedly in the mass layoffs. 

Orlando is enforcing the new ordinance 
forbidding the homeless  from sitting on the Orlando sidewalks. 
The penalty $500 fine and/or 60 days in an overcrowded jail. 
If they had $500 they might not be homeless. 

Many of our Central Florida homeless are working at regular jobs, 
but can't get enough money together to get a residence. 
This is a resort area, and housing is not cheap. 

We are in a recession, and in denial about it. 
The markets are down, unemployment is up, and so on. 
Money does not disappear in a recession, 
It just changes hands, 
and maybe leaves the country altogether. 

One more point: 
Although not retired,  we live in one of Florida's countless retirement communities. 
Many of our elderly neighbors are going without needed medicines. 
Some are getting medications from Canada, 
due to the pharmaceutical price fixing in the U.S.. 
Most are just going without,  because their Social Security 
puts them a couple of dollars above the "12% below poverty" line for assistance. 

I have in mind our friend and next door neighbor, Larry, 
who has cancer, and can't afford medicine 
to ease the pain and offset the chemotherapy side effects. 
The chemo has made him extremely sick and frail. 
He can't stand the chemotherapy anymore, 
without the medicine to make it bearable. 

He's opting to give up the chemotherapy, and face the consequences. 
A few pills, and he could live a while, or possibly beat the cancer. 
No help around here. 

Congress has great medical and retirement plans for themselves. 
Maybe they could pass one for the rest of us. 

Copyright © August 20, 2002 by Jack Blanchard. All rights reserved.














©2007 www.jackandmisty.com. all rights reserved.