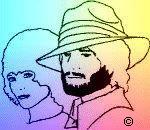 Now over 45,000 readers.

"Stalking An Old Friend"

There was this kid in grammar school...
I'll call him Rick, to protect me from his lawyer.

He beat me at everything.
In the 100-yard dash,
I outran everybody except Rick.
He had the top grade average of all the boys.
I was in there somewhere close.
In the graduation picture, guess who sat front and center.
Not me.
I was in the back row toward the right,
looking at Ellen Weinheimer's chest.

Rick was Class President,
A job nobody ever considered me for.
I was too weird...always making jokes.

The trouble is: We were friends.
He was a really nice guy, humble and friendly.
He seemed to take second place to me socially.
Things change.

A few years ago,
I called another school buddy I got from Buffalo Information.
He had died.
I talked to his son,
and he gave me Rick's phone number.
I figured I'd brag about my musical career,
the Grammy nomination,
the millions of record sales.

Maybe before we both kick the bucket
I could get JUST ONE over on him.

A woman answered and I heard her say:
"Some guy wants to talk to the doctor."
He came on the line
and it took me about five minutes to explain who I am.
He hadn't been thinking about me.
He also wasn't so humble anymore.

He said:
"I went to Notre Dame on an athlete's scholarship,
and became head professor at Harvard Medical School,
and invented a whole new school of medicine."
I think it was the study of the left earlobe.

He then told me that his offspring were all doctors,
lawyers, or something equally annoying.
I was just happy mine were out of jail.

He said : "Let's keep in touch",
and I said: "Sure".
I didn't mention my music career.
After all these years, he got me again!
And I asked for it!

I told him I'd write.
He wrote to me once
on Harvard business stationery.
He never gave me his home address.
I never contacted him again,
but he later contacted me by email.
He was very friendly this time...
the old Rick.
He even sent me a picture of us together at graduation.
We emailed back and forth a few times,
and then my messages to him started bouncing back.

Rick has disappeared again.
I have a feeling he joined the Witness Protection Plan
just to get away from me.

Copyright © March 29, 2005 Jack Blanchard. All rights reserved. Reprinted by permission.














©2007 www.jackandmisty.com. all rights reserved.