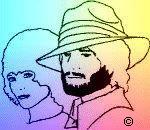 Now over 45,000 readers.

"Song Ideas From Other Songs"

I sometimes get song ideas from other songs.
That doesn't mean stealing,
but taking the basic situation
and turning it into something new.

There are only about a dozen basic dramatic situations
in all literature.
The rest are variations on these...
Saying the same things in different ways.

Roger Miller, in one of my favorite songs, wrote this:
"It's my belief
pride is the chief cause in the decline
in the number of husbands and wives."

I took the basic situation
of pride destroying relationships
and wrote this song:

To listen to the song, click here:
http://www.kokosuniverse.com/jm/wma/blues_rain.htm

"WHEN THE BLUES COME IN FROM THE RAIN."

(She sings)
When the river's runnin' gray,
On a dark and cloudy day,
And the winds that bring October
Make the weeds and reeds and cattails sway...
Thinking my life over,
I see your face again
When the Blues Come In From the Rain

(He sings)
When the leaves are coming down
On the sidewalks wet and brown
And the cars all have their lights on
As they make their way back home from town
Time may fade your picture,
But it sure don't dull the pain
When the Blues Come In From the Rain

(Together)
Don't get me wrong, I'm not sayin' I'm to blame
Just the same, I've got an empty feeling inside
Sometimes I'd like to break right down and call your name
But all that I've got left now is my pride

When the Blues Come In From the Rain
And your face appears, the tears are only
Raindrops on my window pane
Still, if I could live life over,
I'd go back the way we came
When the Blues Come In From the Rain

Copyright © Nov. 5, 2004, Jack Blanchard. All rights reserved. Reprinted by 
permission. "When The Blues Come In From The Rain" Words and music by Jack 
Blanchard. © Jack Blanchard Songs (BMI). All rights reserved. Used by permission.














©2007 www.jackandmisty.com. all rights reserved.