SOME NEWS...

Sorry we haven't written.


Misty and I been fighting with a new computer 14 hours a day.
With a lot of help from our friend Gayle Noble I think we're winning,
and we'll soon be back to writing music and columns.
To the DJ's, we'll get your mp3's in the email this week.
Here's some news.
* * *

The songs on MySpace are playing again, with our homemade demo ..."IGOR".
DJ's, If you'd like an MP3 of any or all of these songs,
let us know and we'll email them to you.
Please click on the picture to start the music...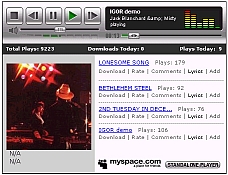 * * *
Here's a new review by Dan Michel,
DJ and Program Director WPMB and WKRV-FM, Vandalia, Illinois...
"MOTEL TIME"
A drinking song in the grandest tradition of drinking songs...complete with
an infectuous singalong chorus...This song is a timeless example of Jack and Misty's
musical magic...Ready to charm a new generation with their top-notch musical chops.
"Motel Time" is ready for radio...A song that invites the audience to sing along...If you
play it...they'll sing it...and then request another round of "Motel Time".
Click here for a preview... http://www.kokosuniverse.com/avi/jm/wma/motel_time.htm
On Stardust Records Compilation #63
* * *
We're in the new Ashley Judd movie!


Well, not exactly. :)
You won't see us in the picture, but you'll hear us singing "The End of the Wine".
We're also on the soundtrack CD album, on sale at Amazon.com.
Track Listings
1. Killing The Blues _ Malcolm Holcombe
2. End Of The Wine _ Misty Morgan & Jack Blanchard
3. Going To See Cal _ Alan Brewer
4. The Way I Am _ Merle Haggard
5. Don't Knock _ Taylor Grocery Band
6. An Invitation And A Kiss _ Alan Brewer
7. Silver Wings _ Merle Haggard
8. Frog Leg Chomp _ Alan Brewer
9. I Got Mexico _ Eddy Raven
10. Goodnight Lucy _ Alan Brewer
11. Oh Lonesome Me _ Don Gibson
12. Movin' Out, Movin' Up & Movin' On _ Troy Cook Jr.
13. Argument In The Parking Lot _ Alan Brewer
14. I'm Going Nowhere _ Troy Cook Jr.
15. What's Done Is Done _ Jeannie Max Lane
16. Owen Is Leaving _ Alan Brewer
17. Jesus On The Main Line _ Taylor Grocery Band
18. Gaining Strength _ Alan Brewer
19. Get Back To Loving Me _ Jim Chestnut
20. Daddy And Daughter _ Alan Brewer
21. Leavin' Ain't The Only Way To Go _ Eric James Jochmans
22. Somebody Pick Up My Pieces _ Willie Nelson & Emmylou Harris
23. Lucy Is Free _ Alan Brewer
24. Old Chunk Of Coal _ Billy Joe Shaver
25. If Anybody Asks You (Callin') _ Shannon Boshears
Your friends,
Jack & Misty