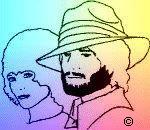 Now over 45,000 readers.

"Sammy Petrillo"

Sammy Petrillo, a great comedian, 
was known for being the first and best
Jerry Lewis impersonator.
He was sued by Lewis. 

He made some B movies with Bela Lugosi
and others.
One was a "gem" entitled
"Bela Lugosi Meets a Brooklyn Gorilla." 

In the 1960's we met Sammy Petrillo at The Apache Club in Miami. 

The crowd and even the club owner had their doubts
that Sammy had ever made a movie.
When Sammy found out that we'd seen one of his pictures
he took us around to the boss and the customers.
We were his "proof" to the bunch of dummies
who didn't know who he was. 

He didn't do much Jerry Lewis in his show that night,
but he did a lot of other good stuff.
He seemed as though he could look like anybody he wanted! 

He told us later
that he just had that "kind of face". As we talked
I even saw a young Milton Berle flash on and off in his face.
Like Frank Fontaine,
Sammy could do a lot more than people knew. 

He and his wife invited us to their motel room
where we sat up all night and talked. 

He's one of the nicest people we have met in our years in show
business.
We hope he's still OK. 

You can read more about Sammy Petrillo here: 
http://www.wfmu.org/LCD/21/petrillo.html 
 


Copyright © April 4, 2003 Jack Blanchard. All rights reserved. 














©2007 www.jackandmisty.com. all rights reserved.