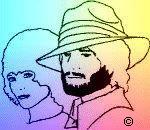 Now over 45,000 readers.

"Response To A Reader"

I recently wrote an article about artistic freedom in Country Music. 
The title was: "Is It Country?". 

A reader sent this: 
"Jack, you know as well as I do that a lot of the crud they play on so called 
country stations is not even close to country! It would be all right but they 
won't even play George Jones or anything from Brother Where Art Thou or any 
of the Hanks. I will vote with my wallet and buy only true country disks!" 

MY RESPONSE: 

Anybody who thinks I'm on the side of the major labels, 
and the restricted playlists of the big American programmers, 
has misunderstood me completely. 

I'm a George Jones fan. 
When I first heard him I liked his singing 
because he brought something new to the music. 
So many artists are using his licks now 
that it's easy to forget that it was once new and different. 

When I first heard Lefty Frizzell, in the 50's, 
I'd never heard anybody do the little vocal tricks and turns he invented. 
I couldn't get enough. I still can't. 
Again, so many singers have Lefty influences, 
we can forget how novel it was then. 

Everybody in Country Music is always looking for "the hook". 
A hook, itself, is something new. 

Misty and I used a Wah-Wah guitar on "Tennessee Birdwalk"... 
a first in country music. 
It went to Number One and got a Grammy Nomination. 
We were Billboard's Country Duet Of the Year that year.
The operative word there is "Country". 

Every great country artist brings something original to the music. 
"New" is not a dirty word. 

To dilute Country Music in order to sound like Pop or Rock 
is not what I'm for. 
It's hack stuff, designed to appeal to a young demographic. 
It is not artistic innovation, 
especially when it leaves classic country out in the cold. 
It's money-driven. 

So, I agree with the reader's response in that area. 
I'm just not in favor of restricting real country artists. 
If we did, we wouldn't have a Lefty or George. 

Copyright © March 20, 2002 by Jack Blanchard. All rights reserved.














©2007 www.jackandmisty.com. all rights reserved.