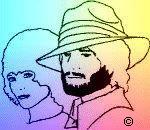 Now over 45,000 readers.

"Remembering Junior Huskey"

In one of our early recording sessions,
Misty and I were outlining the arrangement of the next number.
The musicians were gathered around the piano.
The song was "Rings of Gold",
which had been a hit by Don Gibson and Dottie West.

The bass pattern was sort of unusual,
so I walked over to the bass player and hummed it to him.
"Dum-de-dum, dum-de-dum", I said earnestly.
"Don't worry about a thing, Jack", he smiled.
"I was on the original session."

I should have known.
Junior Huskey had played on all the hits.
He was a driving force on countless sessions.

We never recorded without him
until he passed away a few years later.
The public knew us, but not him.
There's something wrong with that.

When I first hit Nashville as a starving young producer,
I was producing an artist whose primary talent
was getting backers to pay for recordings.

The musicians straggled into the studio,
took their places,
and seemed to do a lot of kidding around.
making funny sounds on their instruments.
Pete Drake, the steel guitar player wore bedroom slippers,
and set his brown bag of lunch up on the steel.

They all just seemed to hang around
and not pay much attention to my briefing.
I pushed the "Talk" button in the control room,
said: "Let's try one",
and all heaven broke loose!

They even made my singer sound good!
However, he was the only one who got his name on the label.

I met Junior Huskey in those early years,
and he looked to me more like a businessman
or a Sunday school teacher than a picker.
He always wore a suit and tie,
and had an intelligent, mild manner.
I thought he resembled the actor Wendell Corey.

In the saloons where I played,
I'd never run into his type of gentleman musician.
I hung around with Junior a lot during sessions
because he made me feel less like an outsider.

Misty and I have never forgotten his thoughtful compliments,
which meant so much when we were new and unsure.

We got a call from our pal Lloyd Green one morning,
who said in his gentle way,
"I hate to call you with bad news,
but one of our dear friends has passed away...
Junior Huskey".

We can still see his face
and hear his friendly gravel voice.

They should give out awards for the studio musicians.
Junior would have had a drawer full them.
At least one for "Human Being of the Year".

Copyright © November 25, 2001 by Jack Blanchard. All rights reserved.














©2007 www.jackandmisty.com. all rights reserved.