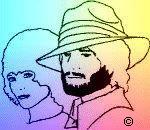 Now over 45,000 readers.

"Poverty As A Career Choice"

I read a lot of negative opinions about Welfare, 
most of them using derogatory phrases 
like "Welfare State", "Welfare Queens", and so on. 

Some people in America 
have more toys than they can ever play with 
and more money than they can ever spend, 
while others live in abject poverty. 

Poverty is not always a career choice. 
It is often an accident of birth 
or circumstance. 

Those of us who are doing well, 
take it for granted that everybody inherits some advantage: 
enough money for a start, 
a chance for a good education, 
a family business, 
a portfolio, 
help from relatives or friends who have the means, 
good health, 
or at least hope. 

To many of us 
a "portfolio" is a paper folder to keep overdue bills in. 

Trailer trash is a theme of endless humor. 
They have teeth missing 
so they must be dumb. 
HELLO! THEY CAN'T AFFORD EXPENSIVE DENTAL WORK! 

They're overweight because they have to eat crappy food. 
They drink beer because they don't have vintage wine, 
and they need a little relief from reality. 

They may not stay pretty long 
because they don't have plastic surgery, 
or even vitamins. 

They have junk cars in their yard 
because they need the parts. 

They sweat out violent weather 
in whatever humble shelter they can afford. 

Of course programs for the poor 
are subject to abuses. 
So are programs for the grossly rich. 
Not all super-rich people are greedy villains, 
and not all people on Welfare are lazy cheats. 

According to my American Heritage Dictionary 
welfare is a noun with these meanings: 
Health. 
Well-being. 
Organized efforts for the betterment of the poor. 

THE UNITED STATES CONSTITUTION 
was established for these reasons: 
"to form a more perfect Union", 
"establish Justice", 
"insure domestic Tranquility", 
"provide for the common defence", 
"PROMOTE THE GENERAL WELFARE", 
"AND SECURE THE BLESSINGS OF LIBERTY". 

There are enough blessings to go around. 

Some folks want "more". 
Others just wish for "enough". 

© August 10, 2003 Jack Blanchard. All rights reserved. 














©2007 www.jackandmisty.com. all rights reserved.