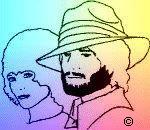 Now over 45,000 readers.

"On Writing Serious Lyrics #2"

   Love is the main song subject, but it can be treated in endless ways. Here's an example 
(I sing first):

    I woke up in the night and saw the moonlight shining through my window.
    I sat up and looked around, startled by a sound I thought I'd heard.
    There was something in the air. I could feel it as I stood there by the window,
    Like the sighing of a lover, or the whisper of a long forgotten word.

    (She sings):

    From across the silver years, beyond the sea of time, where the wind blows,
    Flies the spirit of my love, like the shadow of a Big Black Bird.*

    Here's a more down to earth treatment of the same subject. I'll start with the bridge:

    In neon lights and smoky places,
    We drank with lonely faces,
    Playing at the social graces,
    Trying to fill those empty spaces;
    Sick and tired of one night stands
    And white skin left by wedding bands.
    Now my life is in your hands,
    I'm High On You.
    I'll cover you on winter nights,
    Apologize when we have fights,
    And never lose my appetite for the things you do.
    We don't need those smoky places.
    You fill all the empty spaces.
    By your side I'm satisfied,
    I'm High On You.**

    Another treatment on the subject of love:

    The weeds are brown and dry along the Indiana blacktop,
    and the heat waves on the highway make it shine.
    Got your picture in my pocket with your number on the back,
    and A Handful Of Dimes.
    With a little bit of luck I'll catch a truck down through Kentucky,
    and I'll see you then by Thursday suppertime.
    Baby, we'll get by, we can make it if we try,
    On A Handful Of Dimes.***

    My point: I try to avoid the cliché rut, tempting as it is. There are a lot of good songwriters
already ahead of us in line, so we have to come at it from a different angle. Provide
something different and, if it's good, it will work.

Copyright © February 5, 2001 by Jack Blanchard. All rights reserved.
The following songs are all written by Jack Blanchard:
*-"Big Black Bird (Spirit Of My Love)" Copyright © 1969 Jack Blanchard Songs (BMI);
**-"I'm High On You" Copyright © 1975 Jack Blanchard Songs (BMI); and 
***-"A Handful Of Dimes" Copyright © 1973 Jack Blanchard Songs (BMI).














©2007 www.jackandmisty.com. all rights reserved.