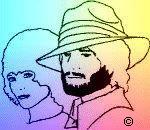 Now over 45,000 readers.

"Now They've Got Me Mad!"

I get emails from people I don't know 
asking me questions that require a response, 
then my reply to their email bounces back at me, 
telling me that I'm under suspicion. 

The bounce-back email tells me to click a link, 
go to a special page, 
and submit a request 
to be allowed 
to send emails to the recipient. 

Here's one I got today: 

"This is an automatic reply to your email message to bozo@earthlink.net 

This email address is protected by EarthLink spamBlocker. 
Your email message has been redirected 
to a "suspect email" folder for bozo@earthlink.net. 

In order for your message to be moved to this recipient's Inbox, 
he or she must add your email address to a list of allowed senders. 

Click the link below to request that bozo@earthlink.net add you to this list. 
Http://BlahBlahBlah.nut" 

Like a nice idiot I went through the whole fiasco, 
and it took several minutes of my life 
that I'll never get back. 

It's OK to have a SPAM filter. 
I have one myself. 
But, to send a stranger an email, asking for a response, 
knowing that it will be rejected by your SPAM filter, 
is an intrusion, an insult, and dumb. 

I was dumb to respond. 
I won't do it again. 

No more Mr. Nice Guy. 

Copyright © Oct. 18, 2004, Jack Blanchard. All rights reserved. Reprinted by permission.














©2007 www.jackandmisty.com. all rights reserved.