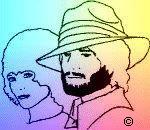 Now over 45,000 readers.

"No Suit. No Tie. No Service."

Yesterday I was the victim of prejudice,
and I'm mad as hell about it.
It's the helplessness that's most frustrating.
I can't prove it, but I know it happened.
No wonder people go "postal".

Here's what happened:
Misty and I were on our way to Daytona Beach
to look at a car we wanted to buy.

I was carrying a check,
and stopped at the Deltona branch of the SouthTrust Bank to cash it.
I don't have an account there, but my friends who wrote the check do.
It was right on our way to Daytona,
and we thought the cash would come in handy.

Our friends, the couple who wrote the check,
flew to Oregon last night for a vacation.

We were driving a rented 2002 Toyota.
We probably should have gone through the drive-in window.
I think I'd have gotten quick and courteous service,
instead of the ordeal that followed.

I walked into the bank lobby
and noticed I was the only customer there.
The place was run by a half dozen female yuppies.
Misty says she noticed them looking at me strangely.
I didn't.

I have sort of long dark hair, a short beard, and a mustache,
but I'm about six shades too pale to be mistaken for an Arab terrorist.

Here's the ensemble I wore:
Light blue Lee jeans;
Light blue short sleeved sweatshirt;
Brown suede Sketcher hiking boots;
A Timex Expedition Digital Compass watch,
I've never learned to work, but I think looks cool;
One blue and white striped railroad engineers cap, which I favor;
And a pair of expensive Armani glasses
I wear for cashing checks and going to court.

First they questioned my age.
I look younger than the age on my driver's license,
and I've been questioned before.
I usually take it as a compliment,
but this time the teller's smile was oddly fake.

The staff went into a huddle. They told me it would be a few minutes.
They carried my check from office to office.
They talked on the phone.
They used the FAX machine.
After a half- hour they told me the signature didn't match.
Sorry. Thanks for your patience. A forgery.

They wrote all over the check that it was no good,
so I couldn't even deposit it in my own bank.
I was left with a useless piece of paper
and a thumbful of fingerprint ink.

Misty asked directions to the rest room and was carefully scrutinized.
After a long pause, they relented and told her where it was.
She was guilty of being with me.

I called Oregon when we got home
and left word for our friends to call us.
They did, at two o'clock this morning, after a long plane ride.
They were angry about it,
and asked for the bank branch name and details.
They are sending a replacement check by overnight mail.
Good people.

I'm an artist, not a business executive.
I wear my own costume, not theirs.
They judged me guilty by appearance.
No suit, no tie, no service.

I now have a hint of how certain minorities feel every day.

I was profiled.

Copyright © September 21, 2001 by Jack Blanchard. All rights reserved.














©2007 www.jackandmisty.com. all rights reserved.