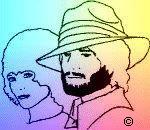 Now over 45,000 readers.

"New Questions About Old Dreams"

Musicians and artists tend to equate what they do 
with who they are.
I know my work and my life are closely entwined. 

Some people look forward to holidays and weekends.
I don't like them.
The inactivity drives me nuts.
I could never retire. 

Maybe this is partly the reason for my recurring dream.
The plot has been the same every night for years
but the characters and scenery are different each time. 

The constants in all of the dreams are these:
I am in a strange place,
I am trying to solve problems that confront me,
and I'm trying to find my way to where I belong. 

Sometimes the place I'm trying to get to is my hotel room,
or the place where our show is supposed to be,
but most often I'm trying to get home.
I'm not ever sure what or where "home" is. 

Often in these dreams I'm trying to call "home" on the telephone.
Occasionally a member of my immediate family answers.
In the dreams I seem to forget that they have all passed away. 

I make a lousy religious or spiritual person,
because I think too much.
Questions make faith difficult. 

Anyway, I woke up today after the usual dream,
and thought this:
These dreams are a lot like my life.
The "home" part is the puzzle.
Where is this "home"?
Could my long gone loved ones possibly be there?
Could it be what Christians call Heaven? 

I still don't have any answers,
but these are a couple of new and interesting questions
that will keep me thinking for a while. 

There is a Randy Newman song
from the movie "Michael",
that goes like this:
"This world is precious to me,
but Heaven is my home." 

That would be nice. 

© September 2, 2003 Jack Blanchard. All rights reserved. 














©2007 www.jackandmisty.com. all rights reserved.