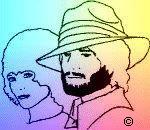 Now over 45,000 readers.

"My Self-Help Books"

I've read Napoleon Hill, Claude Bristol, Norman Vincent Peale, 
and every other self-help book up through the 1980's. 
I don't read them anymore. 

Now that I know it all completely, 
I'm ready to write some myself: 

"How to Appear Taller by Clenching Your Foot Muscles." 

"How to Get Rich and Date Paris Hilton 
While Hiding in Your Guitar Case." 

"Eat and Grow Fat." 

How to Control Your Boss's Mind by Staring." 

How to Attract the Opposite Sex with Catnip and Old Spice" 

"How to Figure Out Which Is the Opposite Sex." 

"Dynamic Ignorance." 

"Build a Mechanical Squirrel in Your Garage." 

"1,000 Good Excuses for Unexpected Gas." 

"How to Get Out of Doing Things." 

"Drive Without Your Glasses." 

"Lying to your Psychiatrist for Fun and Profit." 

"No... It Won't Make You Go Blind." 

"The Art of Whining." 

I think one way to be rich and successful 
is to write self-help books. 

© March 4, 2004 Jack Blanchard. All rights reserved.














©2007 www.jackandmisty.com. all rights reserved.