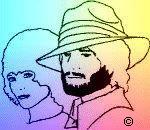 Now over 45,000 readers.

"My Friend Dick Nixon"

Let me tell you something about Richard M. Nixon.
But first I should say that I'm not affiliated with any party. 
I usually vote for whoever I think will do me some good personally. 
I know you don't do that.

I like Jimmy Carter because he's a nice guy with a pretty wife. 
I liked Ronald Reagan. 
Who wouldn't, with his laid back humor and stage presence? 
I like Bill Clinton because he's cool and plays the sax. 
I like George W. Bush's cowboy suit. 
I like Al Gore because his family and some of my relatives are friends. 
I have his home phone number, but nobody ever answers. 
These are all good reasons to pick a president.

Misty and I led the band at a Coral Gables supper club that attracted celebrities. 
Larry King was a regular. 
We got to meet Gordon McRae, Dobie Gillis' brother, and Vivian Vance's husband. 
But Nixon was special.

I swear this is true, weird as it sounds. 
Dick would set a beer on the piano, sit down on the bench, and play for us. 
He actually SAT IN, and his playing wasn't awful. 
This was so long ago that he wasn't quite president yet.

I told him his playing was pretty good, and he said, 
"Not bad for an ex-politician."

I thought we were buddies, but when he got his big job, 
do you think he ever called me?

Copyright © January 25, 2001 by Jack Blanchard. All rights reserved.














©2007 www.jackandmisty.com. all rights reserved.