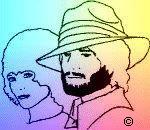 Now over 45,000 readers.

"Music And Friends"

We did several shows today.

We had been a little apprehensive, due to the past week's events. We'd
wondered if they would want us to match the present mood of grief. We hoped
we weren't being irreverent, putting on a show at this time. We also
wondered what the mood of the audience would be. But, we had said we would
appear, so we kept our word.

We wore red white and blue.

I looked around the club and noticed familiar faces we hadn't seen for a
long time. It was almost like a family reunion.
In a sense, it was.

We turned up the PA and kicked butt from the first note. No sense being
mousy. We were rewarded with warmth, applause, and many requests for our
own songs. People gathered around the stage between shows to talk to us. We
told how happy we were to see each other again. The active word there is
"happy".

Music has a healing effect. It felt good to see them smile.

They needed it.

So did we.

Copyright © September 16, 2001 by Jack Blanchard. All rights reserved.














©2007 www.jackandmisty.com. all rights reserved.