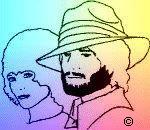 Now over 45,000 readers.

"Misty And The Wolf"

We had a toy poodle named Wolf. He was too smart. On the road in our motor home, Misty
was trying to play fetch with him, throwing a toy. He humored her a couple of times, and
then he did this: He nudged the toy off the seat with his nose, and then looked up at her
for help. Misty reached down to the floor and put the toy back up on the seat. Wolf waited
a few minutes and then knocked it off again. 

After I watched this a while I realized Wolf had taught Misty to fetch. 

When Wolf made up his mind to stay under the bed, he stayed. He usually came when called,
but he had his artistic moods. Misty and I worked out a way to get him to come out. I'd go
outside and ring the doorbell, Misty would yell "Who is it?", Wolf would tear out from
under the bed, barking all the way to the door, and we'd grab him. 

Smart as he was, he fell for it every time. 

Copyright © May 25, 2001 by Jack Blanchard. All rights reserved.














©2007 www.jackandmisty.com. all rights reserved.