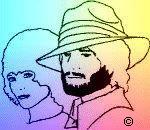 Now over 45,000 readers.

"Merry Christmas Anyway"

Merry Christmas all you Christians, Jews, Muslims, atheists, rich, poor,
and let's not leave out the fringe weirdos.
Merry Christmas I say, 
to all humans, dogs, cats, and miscellaneous living items.

Christmas has been my favorite holiday my whole life,
and I want to share it with you.
You don't have to buy me anything.

Join me in toasting old Saint Nicholas,
if he will fit in our toaster. (Haha. I get jolly at Christmas.)

Cry with me at the ending of "It's a Wonderful Life".
Let's boo and hiss together at Old Mr. Potter.
We'll get sentimental listening to the Christmas carols at Walmart.
What time is Charlie Brown on?

Let's all pray for snow even if we're in Florida.

Enjoy new times with old friends.
If we don't have any friends, let's make some.
Find somebody who looks down in the dumps,
give them a big smile, and toss them a "Merry Christmas".
If they just look at you funny and walk away, so what?
There are other people waiting to be annoyed with our Christmas glee.

Think about your home town,
and try to recall the good times.
I think about Buffalo this time of year.
Not necessarily the real Buffalo,
but the one that only I remember.
That's where I got all my Christmas spirit to begin with,
shopping downtown... a lost art,
and trimming the scotch pine
with people we loved more than we knew at the time.

I laugh and cry a lot as Christmas approaches.
I even cry at commercials.
I laugh easily at funny remarks, especially mine.
It's embarrassing but I don't much care.
Ten minutes after the joke has slipped into the past,
I think about it and start laughing again.
Everybody tries not to notice,
and the more I try to stifle it, the more I laugh.
Tears come out of my eyes.
Christmas makes me weak.

So, whatever your religion or non-religion is, Merry Dang Christmas!
You don't have to go to church if you don't want to.
I probably won't, but I might watch Midnight Mass on television,
and I'm not even Catholic.
It's all part of the pageantry that is my holiday,
and I plan to eat too much, mellow out, and enjoy the feeling.

Call me on your holiday and I'll join you,
but listen...
What I'm saying to you right now is this:
"Merry Christmas to all good people."

Copyright © November 30, 2007 Jack Blanchard. All rights reserved.
Reprinted by permission.














©2007 www.jackandmisty.com. all rights reserved.