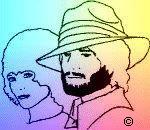 Now over 45,000 readers.

"Looking Back At 2004"

It was a pretty rough year
with the war, the tsunami, the hurricanes,
the anger of Americans against other Americans,
the flu vaccine shortage scare,
the huge national debt,
the price of gas and medicine,
the loss of good jobs,
all along with our regular problems.

Iím sure Iím leaving out a lot.
Oh, yeah, the bears in our yard.

I wonít mention the election if you wonít.

It was a year of contrasts...
The tragedies brought out the good side of many people.
Good Samaritans, and even heroes, made quite a showing.
There were some laughs between the troubles.
We lost our old home to the storm, but we have a new one.
We made some new friends, and made up with some old ones.
We mourn those who died,
and celebrate those who were born

Misty and I are still together,
and we have a chance at 2005.

I hope we donít get another bunch of storms,
but, letís face it...
The weather is better on this side of the grass.

2004 was a rough year,
but Iím glad I got to live it.

Copyright © 2004 Jack Blanchard. All rights reserved. Reprinted by permission.














©2007 www.jackandmisty.com. all rights reserved.