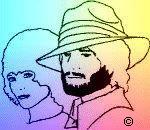 Now over 45,000 readers.

"Letters From Elvis"

OK. I saw a couple of UFOs a long time ago,
and I got messages from dead relatives
that actually made more sense than
most of the messages I get from the living.
Does that make me a nut?
I think not.

I don't harp on these subjects,
and I don't try to convince others.
If I am a nut it's for other reasons entirely.
I am never nuts for naught.

Now, even though we've established my sanity,
I keep getting emails
one would think were intended for someone squirrely.
Not for sane me.

The past couple of days I've been getting letters from Elvis Presley.
They come from an email address of the same name.
He mentions our our music,
which seems to indicate he knows us.
He mentioned in one letter that he's now 64 years old.

The first letter from Elvis took me by surprise.
I sent a one word reply:
"What?".
I know it got to the Elvis address because he wrote back.
Here's one of his notes:

"Subject: That's right ole baby
Date: Tue, 31 Jul 2001 21:48:28 +0800
From: "Elvis Presley" 
To: jack@jackandmisty.com

Yeah baby...I'm alive.thankyaverymuch...I love ya...I wanna sing a couple
of my favorite songs for ya...love me tender love me sweet...never let me
go oh baby mine oh thankyaverymuch...you ain't nothin but a hot dog...I
mean a hound dog baby...I like ya music jacko...Tennessee Birdwalk...chirp
chirp baby...thankyababy...I chirp all the time baby...ole lonesome boy
like me...love ya man oh man oh man Iloveya...
Elvis"

Go ahead and write to him, if you want to. I won't be jealous.
We have a good relationship.

Copyright © July 31, 2001 by Jack Blanchard. All rights reserved.














©2007 www.jackandmisty.com. all rights reserved.