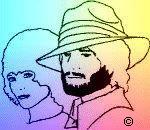 Now over 45,000 readers.

"Johnny And June"

We have met most of the Country legends,
and have split shows with a lot of them,
but we never met Johnny Cash and June Carter Cash.
Yet, we have always felt that we know them.
I think millions of us have that feeling. 

There is a certain rare something
special people have
that makes us feel that way.
Like friends. 

These are people you pray for
even though you've never met them. 

We saw them in live performance
at a convention in Nashville in the 1970's.
They made us laugh and cry. 

Johnny is the most charismatic entertainer we've ever seen. 

June, with her angelic aura,
made us just know
that if we met her
she would be nice to us. 

These people would help you
if you asked.
That's the unspoken message we got in their presence. 

Misty and I like to think we're a little like them.
Why not?
That's a good thing to be. 

We are happiest when we're onstage
making an audience comfortable,
and emotionally involved. 

We're still in love
after all these years. 

We talk to each other more than the average couple...
mostly at the kitchen table. 

Today we talked about our friends,
Johnny and June. 

© May 16, 2003, Jack Blanchard. All rights reserved. 














©2007 www.jackandmisty.com. all rights reserved.