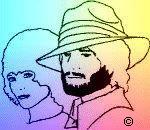 Now over 45,000 readers.

"Joel Mathis"





The world lost Joel in 1999 at the age of 52, 
but his voice and music go on. 
You can hear him sing 
on Dick Shuey's Hero Records "Twang Country" compilation. 
I was mastering the album, 
and asked Dick if we could add a track by Joel Mathis. 
He said: Sure. 

Did you ever experience anything like this? 
Even though I spent very little time with Joel, 
my mind has registered him as a friend. 

Maybe it's because I've listened to my own song lyrics through his voice. 
I've listened to him so much, I know his every vocal nuance. 

Another thing is: 
He has a friendly masculine warmth to his voice, 
like Hoss Cartwright or Bill Mack. 
The gentle tough guy. 

I had the feeling that we had known Joel 
better than we know most of our neighbors, 
but these are the facts: 

Our motorhome broke down in Valdosta, Georgia, 
while Misty and I were on tour. 
Having some time, during repairs, I called the local country station. 
The DJ Gary Graves (radio name Gary Monroe) got us together with Joel. 
We went to the Mathis home, and met his wife JoAn and the family. 
Good people. You know, comfortable. 

I showed Joel some of my songs, and he decided to record three of them. 
After that the only time we spent together was on the phone, making plans, 
and in Nashville at the recording sessions, when we joined him 
to do the band arrangements and production on our songs. 

That's it! It's hard for me to believe. 
We feel as though we've known Joel forever. 
I guess some of us connect that way. 

"Little Orphan Annie" 
is the song Joel sings on Dick Shuey's Twang Country CD. 
It's a great session. We love it. 
And the even better news is: 
Gary and JoAn have sent us more of Joel's great masters, 
maybe enough to make an album. 

With so many bad things happening lately, 
the return of Joel Mathis' music is a much-needed good thing. 
The world needs to hear it. 

Copyright © March 26, 2002 by Jack Blanchard. All rights reserved.














©2007 www.jackandmisty.com. all rights reserved.