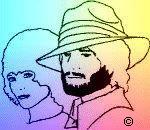 Now over 45,000 readers.

"It Must Be Love"

There are always a few people who say something like this about us: 
"We're Country and you're not." 
That's wrong, but we hardly ever respond. 
I know of at least one DJ, and one agent 
who are down on our music because of something I said in an article, 
so, today I feel it's time to speak up. 

I'll give you an example of classic country:
Us: Jack Blanchard and Misty Morgan. 

Thirty-five years ago, 
we had our first Billboard charted country record: 
"Bethlehem Steel". 
Is that far enough back?

And, we've had lots of Billboard Picks 
and charted country records since. 
And add the 1970 Billboard Award for "Best Country Duo". 

We have performed on The Grand Old Opry, 
The Ernest Tubb Record Shop radio show, 
The Nashville Network (TNN), 
The Wheeling Jamboree, 
and most major state fairs in America. 
We've played our Country music in 49 states. 

We admire DJ's who play the good stuff, especially the volunteers, 
the ones who don't get paid. 
They, like us, do it out of love. 

Misty and I are volunteers, too. 
When we had big hits, somebody else got the money, 
and now we're in the indie field, and not making a penny on it. 

We spend more on postage and office supplies 
than comes in from CD sales. 
No money comes in from airplay royalties, 
except from the U.S. and Canada. 

It MUST be love! 

Copyright © August 21, 2002 by Jack Blanchard. All rights reserved.














©2007 www.jackandmisty.com. all rights reserved.