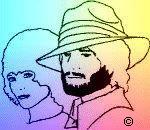 Now over 45,000 readers.

"Is This Music Or Religion?"

I hear this kind of comment a lot... 
"Real country music is whatever I like. The kind you like is not real. 
My tradition is the classic one. Yours is a corruption. 
My style of clothing is correct. You dress like a bum. 
Mine is the true music. You are an infidel" 
Hey! Is this music or religion? 

Misty Morgan and I have made hundreds of recordings. 
In exactly six of those we used strings. 
We wanted to see how it felt. 
We liked it then and we still do. 
I feel so ashamed. 

Here's one of them. Judge for yourself: 
http://www.kokosuniverse.com/avi/jm/wma/the_wine.htm 
We sing this one in the new Ashley Judd movie "Come Early Morning", 
being released in September. 

The artists themselves aren't all that competitive. 
It's mostly the fans, critics, and other non-artists. 
The emails I get show that the controversy goes on...and on and on.... 
ad nauseum. 
That's a latin phrase meaning "Barf". 

We've been in country music for over 35 years 
as a songwriters, singers, and producers, 
and have received Country awards 
from Billboard, CMA, Grammy, BMI, ASCAP, and blah blah blah. 
We've known just about every country legend. 
All this is nice, 
but it doesn't make me an expert on what's Country and what isn't. 
There are no experts on that... 
just a lot of people with opinions. 

Fans who play a little guitar are boosters for simple three chord country. 
That's what they can play. 
Good. 
It makes them happy, and that's what music is about. 

Some of our music is very down home, 
and some is more out there, 
according to our inspiration at the time. 
No professional has ever said that our music didn't fit. 

For the record, 
I don't care for a lot of the so-called New Country. 
I enjoy the old goodies, and also the more innovative stuff, 
like Mickey Newberry. 
I even sometimes enjoy rock & roll, jazz, and classical. 
I hope nobody finds out. 

The argument will go on forever. 
We'll just keep on doing what we do best, 
and what we like. 
It's almost always legally country. 

Our job is to make the music, 
not to argue about it. 

Copyright © July 25, 2006 Jack Blanchard. All rights reserved. Reprinted by permission.














©2007 www.jackandmisty.com. all rights reserved.