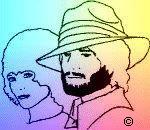 Now over 45,000 readers.

"I Like The Easy Way"

Laziness has been my inspiration.
I became a musician to keep from getting a job.
I do some of my best work
while sitting still and staring out a window.
I don't sit on park benches anymore
because strangers come up and wave mirrors under my nose
to see if I'm breathing.
Squirrels bury their nuts in my pocket.
I do a minimum of exercise to stay alive,
but I don't like it very much.
I brag about it after I do it.
I like hard working folks,
(Somebody has to get the paper and fix the car,)
but most of them look at me funny
because I sleep through half of their day.
I suspect that day people are a little prejudiced
against us night crawlers.
I think I'm fairly healthy
and look young for my age.
I attribute my well being to things like these:
I stay out of the sun, like a good vampire,
and I don't use an alarm clock.
I never get indigestion from junk foods,
but I always get sick on health foods.
I don't like to take too many pills,
although I admit I walked around for many years
with an illegal smile.
I believe if I stay away from doctors
I'll probably live longer.
I smoked and drank my share early in life,
and I've retired from all that hilarity.
It was too much work anyway.
Most work saving devices
were invented by guys who were looking for the easy way.
As long as I have a car, I won't jog.
My car is not new, but it's paid for,
so I don't have to go to work to make payments.
I take little walks late at night,
so I don't need a treadmill.
I don't want to wear out my body.
I don't recommend these practices to anybody else.
They just seem to work for me.
A wise man once said:
"One way to gain respect
without actually doing anything,
is to be an early riser."
Another wise man said this:
"Never do today
what you can put off 'til tomorrow.
You might get out of the whole thing."
There was one more wise man,
but he didn't say much.

Copyright © Jan. 20, 2005, Jack Blanchard. All rights reserved. Reprinted by permission.














©2007 www.jackandmisty.com. all rights reserved.