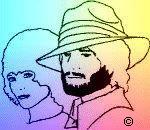 Now over 45,000 readers.

"Hurricanes Remind Will Campbell Of Christmas"

This came today from our friend Will: 

*      *      * 

Well, I went shopping for Christmas. 
Not much of a crowd. 
It wasn't until I tried to walk out without paying 
that I received a measure of attention. 

Funny how much The Yuletide reminds me of Hurricanes. 
After all we do decorate the house. (boarding and taping up windows). 
Dragging out boxes that haven't been used since last season. 
(camping gear, flashlights, etc.) 
Last minute shopping in crowded stores. 
Regular TV shows pre-empted for "specials". 
Family coming to stay with you. 
Family and friends from out-of-state calling more frequently. 
Buying food you don't normally buy ... and in large quantities. 
Days off from work. 
Candles. 

And at some point you know you're going to have a tree in your house! 

WILL 

*      *      * 

Thanks, Will. 
I'm sure we'll all feel better when our roof looks like tinsel. 

Jack Blanchard 

Copyright © Sept. 24, 2004, Will Campbell and friend. All rights reserved. 
Reprinted by permission.














©2007 www.jackandmisty.com. all rights reserved.