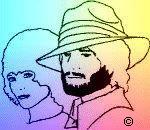 Now over 45,000 readers.

"Hooray! Will Campbell Is Back!"

Today's collection of hurricane thoughts 
is the first email we've received from Will Campbell in months. 
I'm happy to see that his illness hasn't interfered with his insanity. 

 *      *      * 

From Will Campbell: 

"Recently a change of mass distinction has come over me. 

I've developed a slight twitch when introduced to anyone with the first 
names of Charley, Frances or Ivan. 

I've been looking at paint swatches for the plywood on my windows, 
to accent the house color. 

I now think of my hall closet/saferoom as "cozy". 

I no longer worry about relatives visiting during the summer months. 

I'm putting a collage together on my driveway 
of roof shingles from my neighborhood. 

My Street has more than 3 "NO WAKE" signs posted. 

I now own 5 large ice chests 
and I can cook "anything" on a propane grill. 

My cats can now say" hammered, pounded and hunker down". 

I'm considering upgrading from a 16" to a 20" chain saw 
I now know what "Bar chain oil" is. 

I'm thinking of getting Joy a hard-hat 
with the ear protector and face shield, for Christmas. 

I look forward to discussions 
about the merits of "cubed, block, and dry ice". 

My therapist refers to my condition as "generator envy." 

I fight the urge to put on my winter coat and parade around 
in front of my picture window, 
when I finally get power, 
and my neighbor across the street, with the generator, doesn't. 

And finally, 
I asked a friend up north to start saving the Sunday Real Estate classifieds. 

Wil & Cats" 

*      *      * 

Welcome back, Will. 

Jack Blanchard 


Copyright © Sept. 21, 2004, Will Campbell and friend. All rights reserved. 
Reprinted by permission.














©2007 www.jackandmisty.com. all rights reserved.