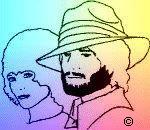 Now over 45,000 readers.

"He Loves Me And I Can't Stand It!"

I was forced to post this on the Twangtown Message Board today:
HE LOVES ME AND I CAN'T STAND IT!!!

The worst kind of heckler is the one who keeps yelling 
how much he likes you to the point where you can't do your show. 
You look bad if you put him down, because he "loves you". 
It's like some sort of a flying insect that serves no 
purpose in life except to get up my nose.

I didn't know they had hecklers on the internet, but they do. 
I'd be happy to chip in for a straight jacket 
for the one who's on my case. 
He's a notorious space cadet. 
No matter what someone says, he feels it's his duty 
to respond with a dumb and opposite response. 
There are times when I'm not sure about freedom of speech. 
Maybe you should take a test and get a license. 
A mouth is a dangerous weapon. 
Hitler was not known for personally killing people. 
He did it with his mouth.

I don't even have to print this idiot's name here. 
Most of you know who he is. 
He'll probably post a response right under this message.

I just want him to go away. 
I've told him this in harsh words. 
No soap.

And the worst part is: HE LOVES ME!

Copyright © April 27, 2001 by Jack Blanchard. All Rights Reserved.














©2007 www.jackandmisty.com. all rights reserved.