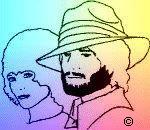 Now over 45,000 readers.

"Harry the Hipster"

Harry "The Hipster" Gibson 
was one of the great musicians around Miami in the 1960's. 

When I was in high school in Buffalo 
I heard his records on the juke boxes. 

He played great jazz piano, 
and sang a little like Louis Armstrong. 

He wrote weird songs like: 
"Who Threw the Benzadrine in Mrs. Murphy's Ovaltine?", 
"Gladys isn't Gratis Anymore", 
and "I turned A Trick on a Train, and Thought About You." 

Harry was a gentle, friendly guy 
who looked like a little magician... 
nothing like his public image. 

Harry was a drug addict. 
His stage persona, 
being the opposite of his real personality, 
maybe he needed something to lean on. 

He often sat in with our band, 
and Misty sometimes filled in for him 
when he didn't show up for a club gig on a Saturday night. 

I just ordered a "Harry the Hipster" CD from Amazon. 
I can't wait to get it. 

He's one of the forgotten greats. 

Here's a picture of Harry The Hipster: 

  

© April 3, 2003 Jack Blanchard. All Rights Reserved. 














©2007 www.jackandmisty.com. all rights reserved.