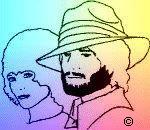 Now over 45,000 readers.

"Gordon Leeder: Trouble Behind The Curtains"

Maybe Iíve told you about Gordon Leeder before, 
but he came into my thoughts today for no apparent reason, 
and so I tell it again. 

Gordon cracked me up! 
He reminded me, in looks and personality, of Tim Conway. 
He was always witty 
and, looking back, 
he seemed abnormally happy. 

I sort of envied Gordon. 
He and his wife owned The Star Dry Cleaners 
on Oliver Street, in North Tonawanda, New York. 
I could see his store 
from my cheap apartment above the bowling alley across the street. 
I didnít even own a car. 

We played poker about once a week 
and went to some club meetings together. 
Gordon cheered everybody up. 

One night Gordon Leeder committed suicide with a shotgun. 
Nobody seemed to know why. 

I was a pallbearer at his funeral, 
and although that was many years ago, 
Gordon still pops into my mind once in a while. 

Hereís one of the things Iíve learned in my life: 
No matter how good things look from the outside, 
everyone has trouble going on behind the curtains. 

© September 8, 2003 Jack Blanchard. All rights reserved. 














©2007 www.jackandmisty.com. all rights reserved.