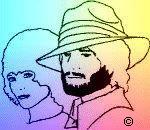 Now over 45,000 readers.

"Good Things About The Music Business"

Weíve known Ralph Emery since the beginning. 
We often parked our Winnebago outside WSM 
when he had the coast-to-coast all night radio show. 
Marty Robbins was there quite regularly, 
and one night we took turns playing the piano and singing our songs. 
I asked Marty how he got the blond streaks in his hair, 
and he said "Lemon-go-Lightly". 

Marty had just returned from Hawaii, and was telling us about a Hawaiian game, 
where they use a coconut instead of a ball. 
I said this to Ralph: "They call it Fruitball." 
We all laughed, including me. 
It was the first time Ií'd heard it too. 
Good times are not forgotten, to paraphrase an old song. 

Weíve enjoyed being on a number of TV shows with Ralph and his guests... 
Music Hall America, That Good Old Nashville Music, Pop Goes the Country, and others. 
They were all fun. 

Once Ralph whispered this to me before the show started: 
"Jack, don't say anything to embarrass me." 
I still donít know whether he was kidding or not. 
Anyway, he opened the interview with this: 
"Well, Jack and Misty, what have you been doing?" 
I said "Weíve been living in a cardboard box in Central Park." 
He said "I think I'll talk to Misty." 
I don't know what comes over me sometimes. 
Sorry, Ralph. 

One of the good things about being in the music business is 
that you end up with a lot of fine friends, 
unless you're one of those legends in your own mind. 
I'd love to go into three paragraphs of big name dropping, 
but I'll try to control myself, and just mention a few here today. 

Steve Hall, who is Shotgun Redís alter ego, 
sent us an audio clip of Ralph Emery and Tex Ritter 
involved in a little ad lib comedy about Misty and me. 
I'll ask Gayle Noble to put it on the net so you can check it out. 
Speaking of friends, Gayle is one. 

A new friend just sent us a DVD 
with two of the many TV shows we did in the 1970ís. 
One of the shows is Pop Goes the Country, with Ralph Emery and Tanya Tucker. 
The other is a black and white copy of Dick Clark's American Bandstand. 
I forgot that we were so damn cute! 
I'm going to give you a couple of links I hope youíll enjoy. 
One is http://www.RalphEmery.com. 
Ralph has put together a wonderful CD set of 40 years of interviews. 
I donít think Misty and I are on it, but here's a photo of us on TV with Ralph:
http://tinyurl.com/3a52co and we hope to have a video for you soon. 

You hear a lot of horror stories about the music business, 
but Iím glad we never listened to the folks who told us to get a real job. 

Copyright © March 18, 2007 Jack Blanchard. All rights reserved.
Reprinted by permission.














©2007 www.jackandmisty.com. all rights reserved.