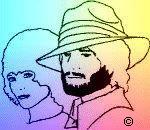 Now over 45,000 readers.

"Foster Brooks"

When I was a young delinquent, 
making the most of puberty in Buffalo,
my favorite DJ was Foster Brooks. 

He had a great speaking voice
and was nuts.
He also owned a hot dog stand. 

He broadcast one segment
from inside the wastebasket under his desk. 

I moved away, life happened,
and I forgot about Foster
until he showed up as winner of The Arthur Godfrey Talent Scout Show.
This show was a big deal in the Dark Ages. 

Foster Brooks sang the semi-classic song "Thine Alone"
as it would be heard over short wave radio from England.
He sang it beautifully
up until the imaginary short wave station started fading in and out,
changing to a high pitched tone with static,
and then fading back in.
He introduced himself with a dignified English announcer's voice. 

Godfrey echoed my sentiments when he said this:
"That was Foster Brooks. He should become a big star.
He's nuts enough." 

So far I had never heard of Foster doing the drunk bit. 

I lost track of him again
until I saw him on TV doing the Lovable Drunk.
A new bit, as far as I knew.
A new beard too. 

He made it big time
at an age when most people retire. 

I've been a Foster Brooks fan most of my life,
and felt bad when he died a little while back.
He was 89. 

I saw him on a rerun of the Bill Cosby Show last week
He was still funny. 

If you want to hear Foster Brooks sing, go here:
http://bad-music.empty-handed.com/gallery/sounds/Foster_Brooks_-_Medley.mp3 

Copyright © April 5, 2003 Jack Blanchard. All rights reserved. 














©2007 www.jackandmisty.com. all rights reserved.