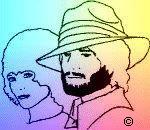 Now over 45,000 readers.

"Fathers And Sons"

A prehistoric teenager speaks to his father: 

Sorry, Dad, 
I know that walking on "all foursies" is your tradition, 
but standing up is my thing. 

It must be strange 
talking to my ankles all the time, 
but if you'd just roll over and take a look at me, 
you might like it. 

Yeah, I know you don't approve of me 
sharing a cave with my girlfriend, 
before I've formally bashed her head in, 
but we think if you love each other, that's enough. 

And, don't worry. 
I won't play with fire, 
whatever that is. 

     *     *     * 

A cowboy father and son. 

The son speaks: 
"Hey, Paw! 
Them squatters is squattin' all over the south forty agin! 
I don't mind them hangin' around out there, 
but that squattin' ain't a pretty sight. 

And them bushwhackers is back! 
We won't have a bush left on the spread! 

And, what's more, 
them cowpunchers is tickin' off our cows! 

Besides that, 
there's a herd o' rustled cattle in the corral! 
Fifteen hundred steers named Russell!" 

The father speaks: 
"Son, why don't you put on your one-gallon hat, 
put the truss back on your horse, 
and ride out." 

Copyright © May 13, 2003 Jack Blanchard. All rights reserved. 














©2007 www.jackandmisty.com. all rights reserved.